240W UFO High Bay LED Lights, 34,800lm 5000K Dimmable LED Warehouse Lighting for Warehouse, Workshop, Factory & Garage, 1000W Metal Halide Equivalent, DLC/UL Listed
240W UFO High Bay LED Lights, 34,800lm 5000K Dimmable LED Warehouse Lighting for Warehouse, Workshop, Factory & Garage, 1000W Metal Halide Equivalent, DLC/UL Listed
10
5
5
1
FREE 1-5 Days Shipping
within U.S.
Save Money: Lepro 5000K neutral white 240W UFO high bay LED light outputs 34,800 lumens, which is equivalent to 1000W metal halide lamp. Save 70% on your electricity bill. Connected with a 0-10V dimmer, you can also adjust the brightness of the light according to your needs.
UL & DLC Certified: Lepro 240W UFO high bay light is UL listed and safe to use. Meanwhile, the UFO lighting fixtures have get the DLC 5.1 certification, which means you'll have the chance to earn rebates.
Waterproof IP65 Rating: This 240 watt LED high bay light is IP65 waterproof, ensuring the light is protected from dust and moisture ingress. It works well in factories with harsh environments.
IK10 Impact Resistant: The Lepro 240W dimmable LED UFO lights feature commercial grade durable material with an IK10 rating for high impact resistance.
Wide Application: Lepro 240w ufo LED high bay lights are widely applied in warehouses, factories, garages and supermarkets. Our 5 year warranty means you can purchase without any worry.
Note: If you are looking for black U brackets for 240W LED UFO high bay light fixtures, please check the SKU: 500003
Recommended 0-10V Dimmer
Lutron: NTSTV-DV/NFTV-IV/DVTV-WH

Leviton: DS710-10Z/IP710

Legrand: RH4FBL3PW

Choose the Perfect Lepro LED High Bay Light
Product

100W LED UFO High Bay Light

View Details

150W LED UFO High Bay Light

View Details

240W LED UFO High Bay Light

View Details

165W LED Linear High Bay Light

View Details

220W LED Linear High Bay Light

View Details
SKU
350009-NW-US
350010-NW-US
350011-NW-US
350012-NW-US
350013-NW-US
Power Consumption
100W
150W
240W
165W
240W
HID Equivalent
250W
400W
1000W
600W
800W
Luminous Flux
14,500 lm
21,750 lm
34,800 lm
23,100 lm
30,800 lm
Dimmable
0-10V
0-10V
0-10V
1-10V
1-10V
Recommended Mounting Height
12-18 ft
14-22 ft
19-28 ft
16-24 ft
18-28 ft
Lighting Coverage
φ35 ft
φ40 ft
φ50 ft
φ40 ft
φ45 ft
Dimensions
φ11.73" x 6.61" H
φ11.73" x 6.61" H
φ14.17" x 7.44" H
24.80"L x 11.81" W x 1.89" H
24.80"L x 14.17" W x 1.89" H
Download IES File
Download
Download
Download
Download
Download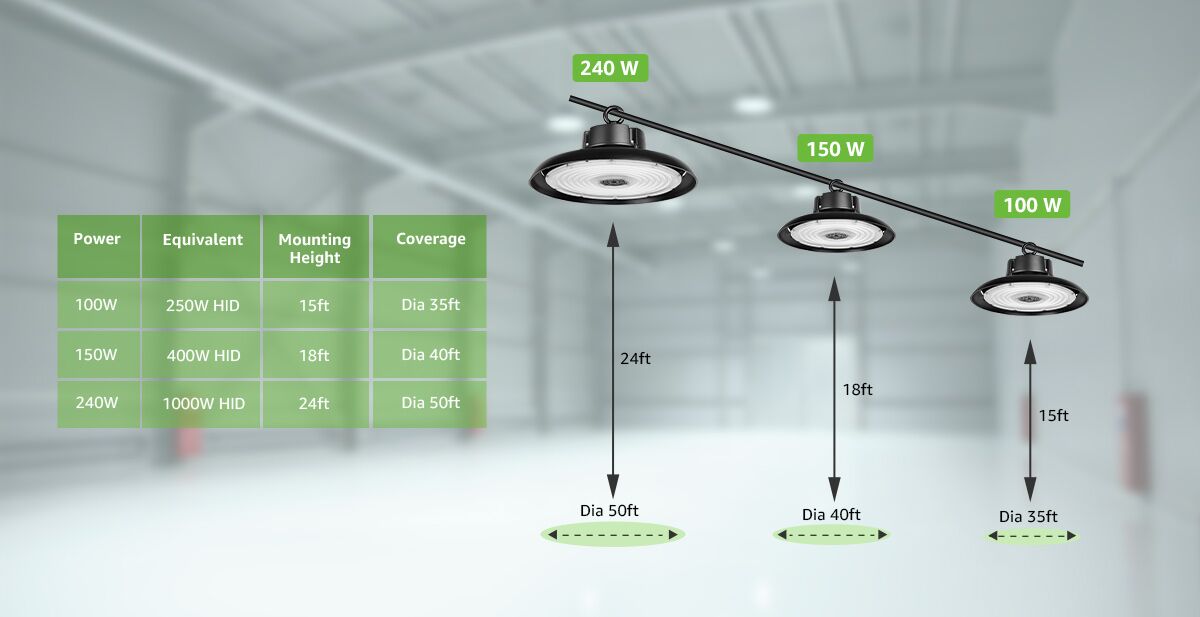 Before purchasing a new high bay LED light fixture, you should consider that the amount of lumens you need for your space,the amount of energy (W) you are using and replacing metal halide fixtures to LED. There are different watts for different levels of height:
10-15 feet – This height range is ideal for high bay lights with 10,000 to 15,000 lumens.
15-20 feet – This height range is ideal for UFO high bays with 16,000 to 20,000 lumens.
25-35 feet – For this height range, UFO high bay lights with 28,000 lumens are ideal.
Lepro 240W UFO High Bay LED Lights Exploded Diagram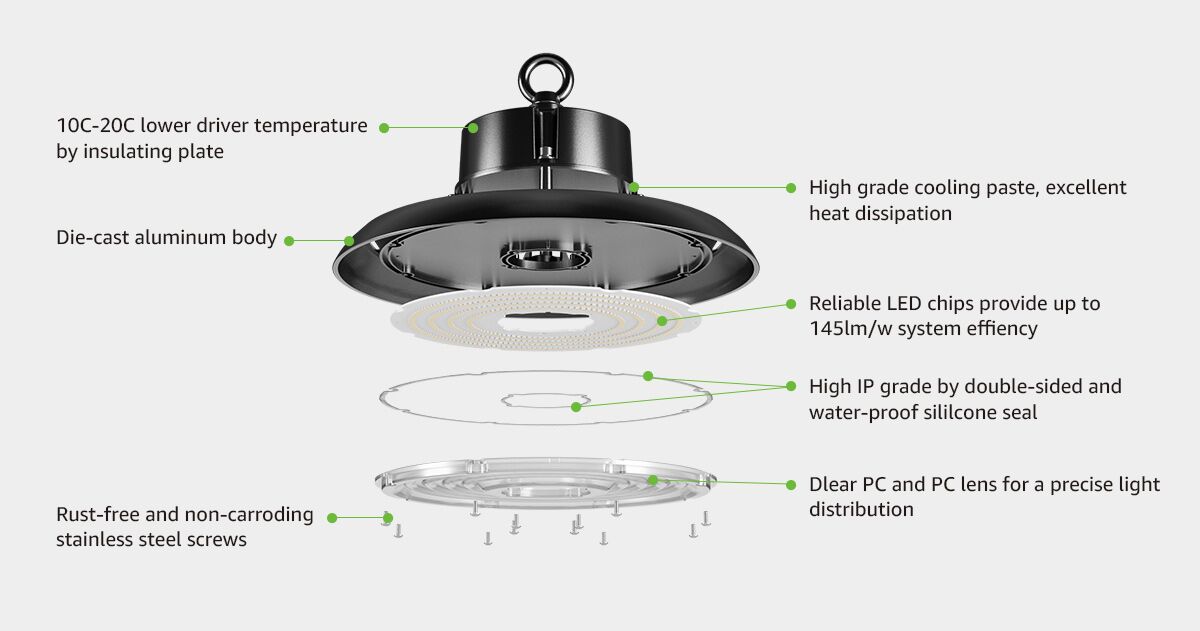 The Lepro 240 Watt UFO LED light fixture features an Lumileds LED chip and a flicker-free LED driver encased within an IP65 die-cast aluminum body for an enduring build quality suited to industrial and commercial environments.
1. 10℃-20℃ lower temperature with isolated driver; 2. Die-casting Al body for excellent heat dissipation;
3. Lumileds 2835 LED chips deliver up to145lm/w luminous efficacy; 4. Silicone seal works well for IP65 protection;
5. PC lens for precise 90° light distribution; 6. Rust-free and anti-corrosion stainless steel screws.
Main Features of Lepro 240W Industrial High Bay LED Lighting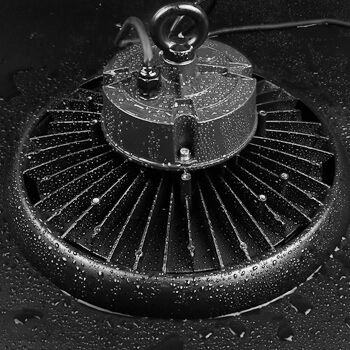 IP65 Waterproof
The Lepro high bay light has an IP65-rated enclosure that ensures protection against low-pressure water jets and exposure to wet environments.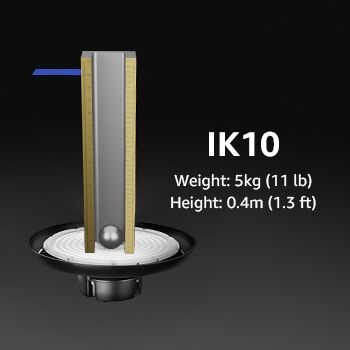 IK10 Impact Resistant
The premium-grade Al housing and durable glass can protect the light from the impact of a 11lb mass dropped from 1.3ft.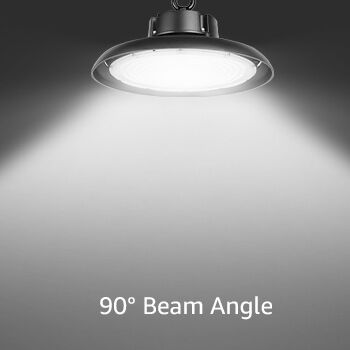 90° Beam Angle
The beam angle of Lepro 240W high bay UFO light is 90 degree, providing focused and stable interior lighting.
6kV Surge Protection
The surge immunity of Lepro high bay light can achieve as high as 6KV, as high as 6 times the standard requirements.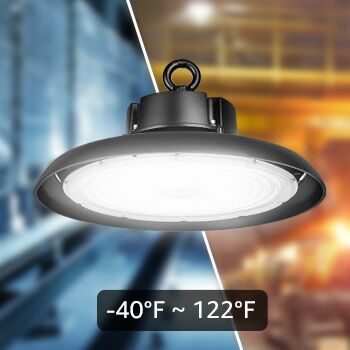 Flicker Free
Coming with qualified LED chips and drivers, this 240W high bay light can work stably at -40℉-122℉, highly extending the lifetime.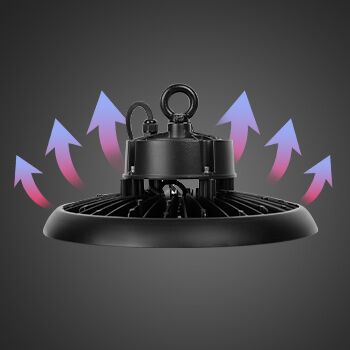 Die-casting Al Housing
The aluminum die-casting housing and fast cooling design provides an amazing heat dissipation effect, ensuring 50,000 hours lifetime.
Widely Application for Lepro 240W UFO High Bay Light

Round LED high bay light fixtures are commonly referred to as "UFO" high bays, which are smaller in size to save space. The Lepro 240W UFO high bay warehouse lighting fixture can be widely used in warehouses, retail spaces, stadiums, manufacturing plants, exhibition halls, supermarkets, distribution centers, and other commercial applications. The super long life of 50,000 hours of our illuminants can save you thousands of dollars on maintenance.
How to Keep You Safe when Using Lepro LED High Bay Light?
Certifications: UL, FCC, and DLC 5.1. Lepro 240w LED high bay lights, along with our critical components like drivers, LED chips, etc., are UL listed. Lepro high bay LED lighting fixtures are in compliance with the latest DLC 5.1, meaning you can get rebates easily.
6 Kilovolt Surge Immunity: Conduct up to six times the standard requirements to avoid light failure.
IP65 Rating: Lepro LED high bay lights, backed by the IP65 rating, are dust proof and waterproof.
IK10: Mechanical impact rating, known as the IK code, can reach up to IK10. It signifies that our 240w high bay lights can withstand a severe external impact equivalent to a 11 pound spherical steel ball falling from a height of 15.74 inches.
Operation Conditions: Our Lepro LED High Bay Lights work with a wide voltage ranging from AC 90 to 305 Voltage. They also operate with wide ambient temperature from -40 °F to 122 °F.
How to Save Maintenance Costs with Lepro High Bay Light
Thanks to its 70% derating usage of LED modules and its excellent heat dissipation from up to 40 radiating fins, the 240w Lepro LED UFO High Bay Light can achieve up to 145lm/W. A traditional 1,000 watt metal-halide UFO light can be replaced with Lepro's 240 watt UFO High Bay Light.
Lepro 240 watt LED UFO high bay lights come with a 5-year warranty. The lifetime of our drivers can reach an impressive 27.4 years when working 8 hours per day in temperatures of 77 °F.
Aluminum die-cast housing is used in all of Lepro's 240W LED UFO high bay lghts to ensure maximum durability and excellent heat dissipation.
The Lepro 240W LED high bays are subject to thermal shock tests, temperature-humidity bias tests, and 100% aging tests for quality insurance.
SKU

350011-NW-US

Color Consistency (SDCM)

<5

Power Consumption (W)

240

Brightness (lm)

34800

LED Quantity

720

Light Color

Neutral White

Color Temperature (K)

5000

Dimmable

Dimmable

CRI

> 80

Beam Angle (Degree)

90

Fixture Color

Black

Input Voltage (v)

120-277V AC

Frequency (hz)

50/60

Power Factor

0.9

Working Temperature

-40℉ - 122℉

Lifespan (h)

50000

Diameter (in)

14.17

Height (in)

7.44

Net Weight (lb)

8.16

Material

Aluminum

Power Source

AC

Waterproof

Yes

Protection Rating

IP65

Safety Rating

UL, FCC

Package Quantity

Pack of 1 Unit

Warranty

5 Years

Energy Rating

DLC5.1
Find rebates for
this product

:
1.Enter your existing wattage
2.Enter your zip code
3.Click 'Find Your Rebates'
Rebates shown are estimates, please verify all rebates with your local utility provider prior to purchase.
Please enter all details and click 'Find your rebates'.