32.8ft LED Strip Lights, 120 Volt, 80W 600 SMD 5050 LEDs, Waterproof, Flexible, Warm White
32.8ft LED Strip Lights, 120 Volt, 80W 600 SMD 5050 LEDs, Waterproof, Flexible, Warm White
2
4.5
5
1
FREE 1-5 Days Shipping
over $39 within U.S.
Dimension: 1000mm (length per roll) *14mm (width)
Working Voltage: 100-120V AC mains operated
Waterproof. IP65 rating. Can be used in outdoor.
Colour Temperature: Warm White(3000K-3500K)
Easy Installation. Plug and play without wiring.
Size of LEDs: 5050 SMD

Flexible.
Slim, compact and flexible PVC strip. Applicable for bendable or angled patterns, or in continuous rows.
Cuttable and linkable.
It can be cut in every meter along the cutting marks, without damaging the rest strips.
Components Saving.
Can be directly connected into main supply, no power adapter, transformer or driver is required.
High Voltage.
Low voltage drop. More little light attenuation, well-distribute lighting in the whole 50 m strips.
Reduce re-lamp frequency.
Lifespan is over 50,000 hrs. Save effort and labour costs on changing lights frequently.
Widely applicable.
Not only be cut in sections, but also can run in with only one power plug.
Eco-Friendly.
No lead or mercury.It is convenient and cost-saving for large outdoor projects.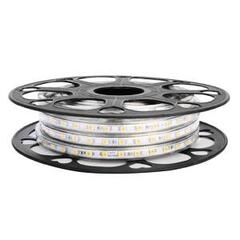 Length:10m
Wattage: 80W
Input Voltage: 100-120VAC
Input Current: 720mA
Power Factor: Over0.5
LED Model: 5050
Color: Warm White 3000K
Not dimmable
IP65 Waterproof
8mm PCB Board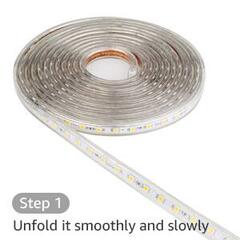 Take the product out of the box, use the stick object to pass through the center of the light strip reel, take the stick object as the revolving shaft, pull the light strip port by hand, and slowly drive the light strip to expand from the reel at a uniform speed.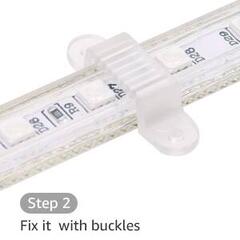 Use matching fixing card to install light strip. It is recommended to use at least one fixed card per meter during the installation of the light strip. Fixed card needs to reserve screw hole position, which can be used in conjunction with fixed card. (Note: Fixed cards are not allowed to be installed above the beads!)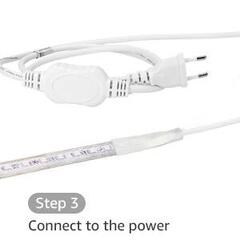 After fixing the light strip, connect to the power, and the input voltage should meet the requirements of product design.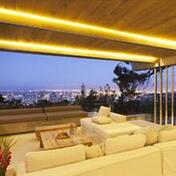 When installing the high-voltagelight strip, the side bending should not exceed 30 degrees. Otherwise, multiple bending will easily lead to the internal circuit of the power supply.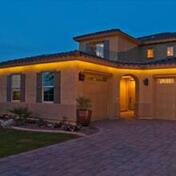 Avoid dragging the LED light strip on the ground to avoid scratching or damage the protective layer. If the protective layer of thelight strip has been damaged, please stop installing light strip immediately.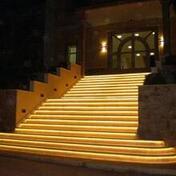 When this product is packaged in whole roll, do not light it for a long time, so as to avoid the heat of thelight strip and cause safety accidents.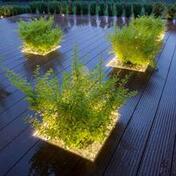 Before using it, please purchase the rated voltage of this product.
SKU

4100074-WW-US

Power Consumption (W)

80

Lamp current (mA)

720

Light Color

Warm White

Color Temperature (K)

3000K

Dimmable

Non-dimmable

Input Voltage (v)

120V AC

Frequency (hz)

60

Power Factor

Over0.5

Lifespan (h)

50000

Length (in)

393.70

Width (in)

0.55

Net Weight (lb)

3.54

Material

PVC

Power Source

AC

Waterproof

Yes

Protection Rating

IP65

Safety Rating

ETL

Package Quantity

Pack of 1 Unit

Warranty

1 Year

Weight

3.6080