6 Pack LED Recessed Lighting, Can Lights, 6 Inch Ultra-Thin Ceiling Light with Junction Box, Dimmable Retrofit Downlight, 14W 1050LM 3000K Soft White Baffle Trim - UL, FCC & Energy Star canister light
6 Pack LED Recessed Lighting, Can Lights, 6 Inch Ultra-Thin Ceiling Light with Junction Box, Dimmable Retrofit Downlight, 14W 1050LM 3000K Soft White Baffle Trim - UL, FCC & Energy Star canister light
2
5
5
1
FREE 1-5 Days Shipping
within U.S.
Can-Killer Downlight: The 6 pack Lepro 6 inch LED recessed lighting fixtures, accompanied by a junction box, only demand as small as 2 inches of ceiling space, making it the space-saving solution for narrow ceilings and joists.
Smooth Dimming Can Light: Compatible with most dimmers, this slim 6 inch dimmable LED downlight would be best suited in residential and commercial properties, meeting our various needs and providing a blend of finesse, elegance, and refinement in probable locations such as hallways, kitchens, bedrooms, living rooms, dining rooms, meeting rooms, offices, basements, and the like.
Flicker-Free: The Lepro modern illuminants, owing to the latest LED technology, supply soft and warm light for maximum eye comfort. This Energy Star-certified LED light only consumes 14 watts of power while emitting 1050 lumens of uniform bright illumination, equivalent to a 100-watt incandescent lamp, and saves over 85% on electricity.
Reliable Lighting: Certified by the UL & FCC safety standards, the Lepro 6 inch LED downlight guarantees protection against corrosion and rust, perfect for your roof and ceiling. The premium-grade aluminum housing with a thermal managing design offers excellent heat dissipation and a life expectancy of 50,000 hours.
Simple and Effortless Installation: Cut a hole in your ceiling to size. Hook the cables into the provided junction box, connect it to the light and snap the spring clips upwards to fix them on the ceiling tile. This hassle-free installation can be done in a matter of minutes and is suitable for both retrofit installation and new decoration.

Download IES

Download User Manual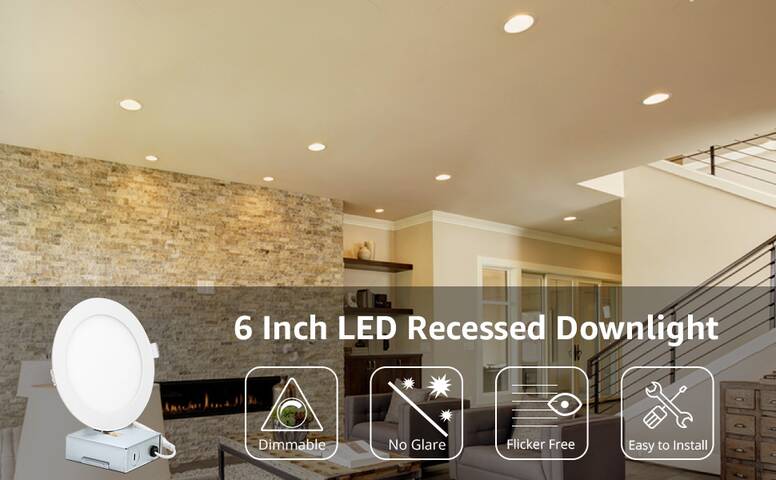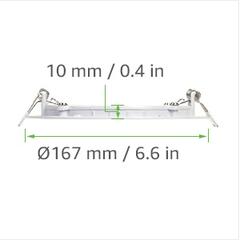 Slim LED Recessed Light Fixture with Junction Box
The ultra-thin, sleek body of the pot light with a thickness of only 0.4 inches occupies only 2 inches of ceiling space and lies flat against the ceiling. Recessed can light fixtures have a low profile, making them the optimal choice, especially for low ceiling areas. They are the ideal recessed lighting solutions for retrofit installation in existing ceilings, remodeling, or new constructions.
Energy Saving LEDs
Replacing the 100W incandescent bulbs with only 14W LEDs slashes energy costs by over 85%, saving money, energy, and the environment. They also provide 1050 lumens of high bright light with no buzzing or flickering for maximum eye comfort.
Low Maintenance
The Lepro Downlight, backed by the Energy Star, UL, and FCC certificates, ensures high quality and superb performance if installed correctly and hardly requires any maintenance. This high-energy efficient illuminant has a life expectancy of 50,000-hours, saves time, effort and reduces the frequency of replacing bulbs on high ceilings.
Specifications
Voltage: 120V AC

Wattage: 14W

Color: 3000K Soft Warm White

Brightness: 1050lm

Beam Angle: 110°

Dimmable, 80+ CRI

Material: Aluminum & PC

50,000 Hours Lifespan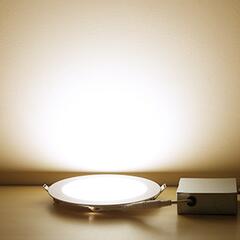 Glare-free and flicker-free
Owing to the usage of high-quality LEDs, they emanate flicker-free, natural, and eye-friendly soft and warm white light.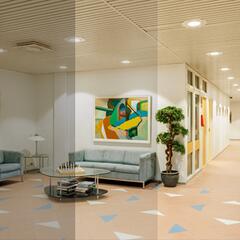 Smoothing dimming from 100% - 10%
Compatible with most dimmer brands, these lights can seamlessly be dimmed or brightened as per individual preference to fit any mood, décor, or ambiance. Dimming ranges from 10% to 100%.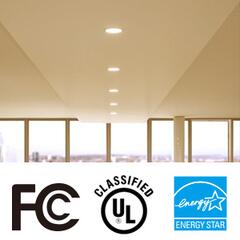 FCC, UL, and ES Certification
Confirms the highest safety standards.

Backed by professional after-sales support.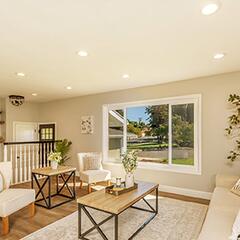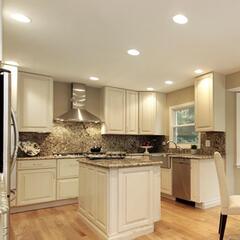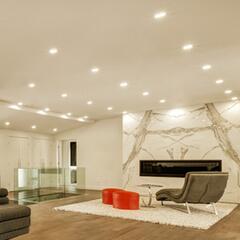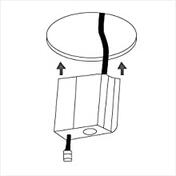 * Make sure the power supply is switched off before installation.
Step 1 - Open the Junction Box and attach the provided wire nuts to connect with the power supply.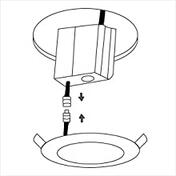 Step 2 - Connect the light to the J-Box via the twist connector.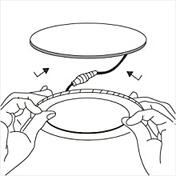 Step 3 - Secure the spring clips upwards firmly and insert the light fixture into the mounting hole.
Step 4 - Push the light into the ceiling tile.
SKU

170004-WW-US-6

Power Consumption (W)

14

Brightness (lm)

1050

LED Quantity

36

Light Color

Warm White

Dimmable

Dimmable

CRI

80

Beam Angle (Degree)

110

Frequency (hz)

60

Power Factor

>0.9

Lifespan (h)

50000

Diameter (in)

6.57

Height (in)

0.55

Net Weight (lb)

7.94

Material

Aluminum, Plastic

Waterproof

No

Protection Rating

IP20

Safety Rating

UL, FCC

Package Quantity

Pack of 6 Units

Warranty

5 Years

Energy Rating

Energy Star
Find rebates for
this product

:
1.Enter your existing wattage
2.Enter your zip code
3.Click 'Find Your Rebates'
Rebates shown are estimates, please verify all rebates with your local utility provider prior to purchase.
Please enter all details and click 'Find your rebates'.