Exit Sign
FREE 1-5 Days Shipping Over $39

FREE 1-5 Days Shipping Over $39

FREE 1-5 Days Shipping Over $39
What are Emergency Lights?
Emergency lights and exit signs are safety devices that are paramount in all commercial buildings. However, exit signs alone are neither meant for nor powerful enough to keep a building or common areas safe for both employees and customers and secure from outsiders, especially during power outages or blackouts. In a scenario where the lights go off, people need illumination to navigate through dark hallways, stairwells, and other poorly lit places without bumping into others as well as objects, keeping them out of harm's way. Halogen and incandescent emergency lights and fluorescent backup batteries are perfect solutions for instantly illuminating spaces during an emergency, helping everyone get to safety. Exit Signs and Emergency Lights are typically used in tandem to provide illumination on one hand and direct people to the exit of a building in the event of an emergency on the flip side. Exit lights are generally placed above doorways, while emergency lights are configured to generate lighting in the occurrence of electricity cuts. 
Why Choose LED Exit Signs?
Gone are the days when we had to rely on energy-hogging lighting, which is along the same lines as exit signages. We have come a long way since the conventional luminaires that have changed dramatically and made substantial progress. Did you know that the typical incandescent exit sign uses 20 watts? That's an insane amount of energy consumed over a 24-hour time frame! Instead, switch over to LED exit signs and see immediate results, be it regarding your electricity bills dropping, your maintenance and replacement costs going down, or exit signs lasting longer. The innovative LED exit signs are undoubtedly the "green" alternatives that reduce the carbon footprint on the environment. 
What are the Benefits Attached to LED Exit Signs and Emergency Lights?
Over the years, LED lighting technology has advanced and evolved to the point where it can surpass and resolve a vast majority of the challenges, issues, and drawbacks of the past technologies, as detailed below.
The lighting quality is significantly far better than in former times in terms of color rendering, color temperature, and lumen output (compared to wattage used). They considerably have a much-prolonged lifespan than their traditional counterparts, thereby substantially reducing the replacement and maintenance. To begin with, though investing in high-quality LED illuminants may end up being a costly affair as they are priced slightly on the higher side, in the long run, they quickly make up for the costs on the grounds that they last longer and utilize much less energy than conventional lights, ultimately saving on utility costs in the course of time. Furthermore, unlike their past rivals, they do not waste energy emitted as heat.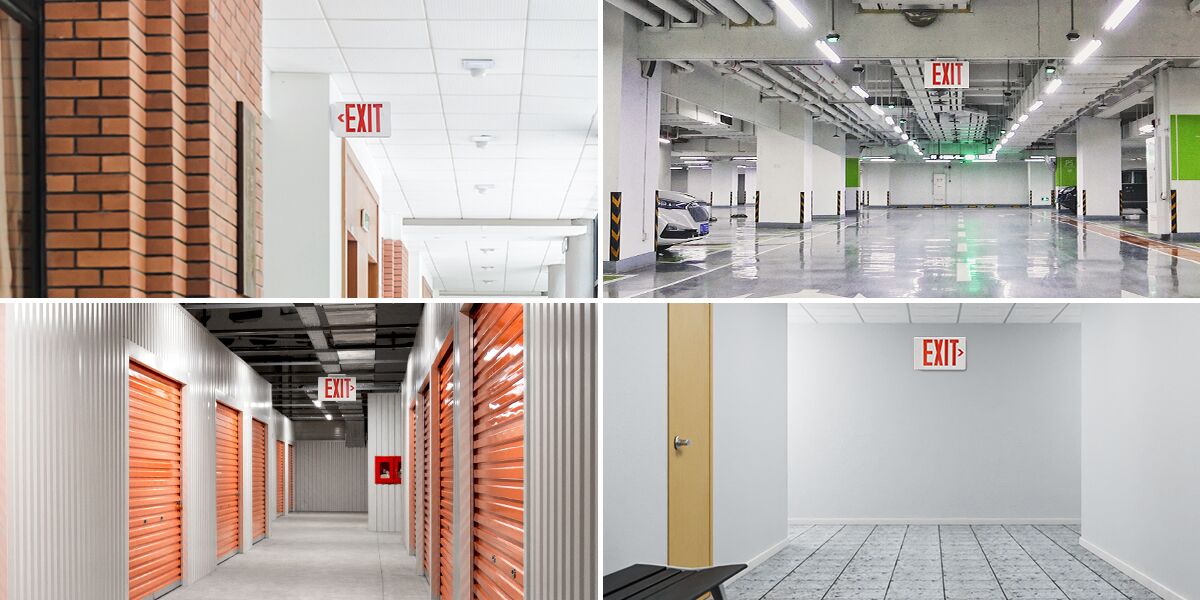 Where are Exit Signs and Emergency Lights Used?
Exit Signs and Emergency Lights can be employed just about anywhere and everywhere in all public areas. They are mandatory in the United States. These cost-effective lighting solutions are suitable to be utilized in schools, offices, government buildings, retail stores, gymnasiums, movie theaters, and sports stadiums, to name a few.
What are the Different Types of Exit Signs and Emergency Lights?
| Type | Description |
| --- | --- |
| Edge-Lit Exit Signs | As the name suggests, this sign is slim in profile and lit by the edge rather than inside the sign's frame. |
| Single Face Exit Signs | Owing to the sign displaying the "Exit" lettering solely on one side of the sign, they are placed directly above doorways. |
| Double Face Exit Signs | The double face exit signs can be positioned in a perpendicular fashion above doorways since it displays the "Exit" lettering on both sides of the sign. |
| Wet Listed Exit Signs | In the wake of these signs being water-resistant, they are protected against water damage and are ideal for use within buildings equipped with indoor fire sprinklers. |
| Emergency Lights | These 1-3 headed lights are automatically triggered during an electrical power failure. |
| Exit/Emergency Light Combo | These devices are a combination of an exit sign and emergency lights mounted on a single unit. |
Should I Use a Green or Red Exit Sign?
The exit signages may either have green or red lettering. However, the color adopted depends on the Municipality where the signage is deployed. The local fire marshal may be contacted to determine the apt color for that particular area.
What are the Lighting Requirements for Exit Signs?
Exit signs must be luminous to an indicated surface value of not less than five-foot candles. It is imperative that the exit sign makes use of a reliable light source to illuminate them continuously, must have distinctive colors, be legible, easily visible, and located with ease.
What is the Best Way to Test Battery Operated Exit Signs?
The exit sign has a small button located on its casing, which allows for effortless and uncomplicated testing of the battery and bulbs. Simply press the "push to test" control and hold it for a minimum of 30 seconds to begin the testing process.