Color-changing light bulbs provide a simple and convenient way to control the ambiance and set the mood in any room of your home, without the need for additional wiring or complicated installation. According to Larry Campbell, a licensed master electrician and member of The Spruce's Home Improvement Review Board, these bulbs are user-friendly and can be easily understood and used by most tech-savvy individuals. Moreover, he emphasizes that they can also function as regular LED bulbs without being connected to a Wi-Fi network, making them a suitable choice for those who are not particularly tech-savvy or prefer not to add another smart home device.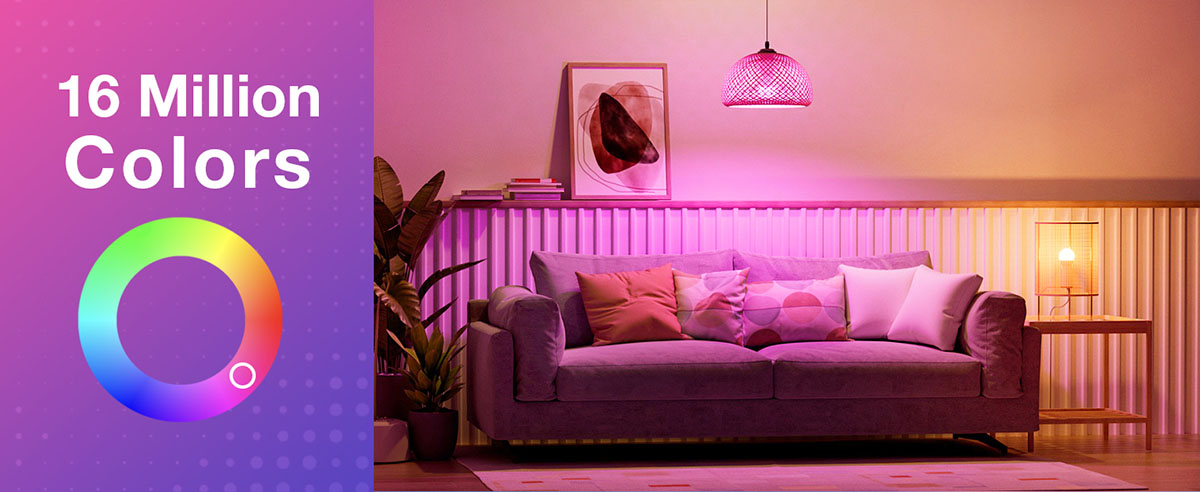 When selecting color-changing light bulbs, it is advisable to consider factors such as color range, brightness, energy efficiency, and additional features. Some options even offer a waterproof design, making them ideal for outdoor use on a deck or patio, while others can synchronize with your music to create a captivating atmosphere for activities such as workouts, dinner parties, or study sessions. We have conducted extensive research on the available options, and our recommended favorites are guaranteed to transform your home into a colorful oasis, tailored to your preferences.
Best 5 Color Changing Light Bulbs
The list of best color-changing LED bulbs of 2023:
Lepro B1 AI Smart Light Bulbs
Philips Hue White and Color Ambiance Smart Bulb
Govee Smart LED Bluetooth Bulbs
Nanoleaf Essentials Smart LED Color-Changing Light Bulb
Kuniwa Outdoor LED Color-Changing Spotlight Bulb
The Lepro B1 Smart Light Bulb is a highly versatile option that provides an extensive range of functionalities. Its user-friendly smartphone app allows for effortless control of brightness, color temperature, and the creation of lighting schedules. Furthermore, the bulb seamlessly integrates with your smart home ecosystem, offering compatibility with voice control through the Lepro+ APP or Alexa.
One standout feature of the B1 Smart Light Bulb is its facial recognition capabilities. By snapping or uploading a selfie on the Lepro app, the innovative LightGPT technology analyzes your facial expressions to intelligently recommend lighting options that perfectly match your mood. This personalized lighting experience adds a touch of sophistication and convenience to your home.
In addition, the B1 Smart Light Bulb facilitates effortless group control, allowing you to easily manage multiple Lepro E26 smart bulbs for various scenes or rooms. Moreover, you can share control permissions for Lepro smart light bulbs with family members, providing them with greater control freedom compared to other brands' single-device restrictions.
Overall, the Lepro B1 Smart Light Bulb offers exceptional value for money and is a must-have for any smart home enthusiast. With its wide range of functionalities and user-friendly features, this E26 smart light bulb from Lepro is sure to enhance your smart home experience.
Philips Hue White and Color Ambiance Smart Bulb
The Philips Hue smart bulbs are renowned for their color-changing capabilities and are widely popular among users. One of the standout features is the Hue app, known for its user-friendly and intuitive design.
This particular bulb offers two setup options, including Bluetooth, which eliminates the need for a hub or a Hue Bridge. With the Bluetooth option, simply install the light bulb and connect it to the app. The app allows control of up to 10 lights in a single room simultaneously. However, it's important to note that you must be in the same room as the bulb to control it.
For expanded control options, the purchase of a separate Hue Bridge is required. While this may increase the cost, it allows control of up to 50 lights across different rooms and enables remote management from anywhere. Additionally, the bulb is compatible with Amazon Alexa and Google Assistant, allowing for voice control by simply using commands like "Alexa, turn off the lights." If the hub is used, Apple HomeKit and Siri access are also available.
The app offers a wide range of functionalities, such as choosing from 16 million colors, adjusting brightness, and setting timers. The bulb itself provides an impressive brightness of 1600 lumens. The app's scene gallery provides various color presets, but you can also select a photo from your camera roll as the inspiration for a scene. The lights will then change color to match the mood of the photo.
Overall, the Philips Hue smart bulbs are an excellent choice for those seeking color-changing options. With a user-friendly app, versatile setup options, compatibility with popular voice assistants, and a wide range of functionalities, these bulbs offer a convenient and enjoyable lighting experience.
Govee Smart LED Bulbs, Bluetooth Light Bulbs
The Govee Smart LED Bulb is a Bluetooth-enabled option that offers a high level of customization and is incredibly easy to set up and use. Simply download the app that is compatible with the bulb and connect your phone and the light bulb via Bluetooth to begin.
The app provides a wide range of options, including the ability to choose from an impressive 16 million colors. You can also customize the lighting color by selecting a specific color from a photo or a scene that you capture with your phone's camera. Additionally, the app offers eight different scene modes, such as Sunset and Sunrise modes, which are perfect for creating the right ambiance for waking up or going to sleep.
For added convenience, the bulbs can be controlled in groups, allowing you to adjust multiple light bulbs simultaneously. However, it's worth noting that the group control feature does not provide access to all functions.
Energy efficiency is also a notable feature of this 7-watt bulb, as it is equivalent to a traditional 60-watt incandescent bulb. While the bulb lacks compatibility with Amazon Alexa and Google Assistant, it does offer the ability to set on-off timers and sync the bulb to your music. This means that the bulb can change colors in sync with the rhythm of the song you are listening to, providing a dynamic and immersive lighting experience.
In conclusion, the Govee Smart LED Bulb is a versatile and user-friendly option that offers a wide range of customization options. With its Bluetooth connectivity, energy-efficient design, and unique features like music syncing, this bulb is an excellent choice for those looking to personalize their lighting experience.
Nanoleaf Essentials A19 Smart Thread Bluetooth LED Bulb
The Nanoleaf Essentials bulb is a top-notch, high-quality LED bulb that competes well with other color-changing options on the market. Packed with advanced features and offered at a reasonable price, it is certainly worth considering.
One standout feature of this bulb is its app-controlled functionality, eliminating the need for a separate hub. It can be controlled via Bluetooth, providing a seamless connection to your smartphone or other devices. Additionally, it is Thread-enabled, which offers enhanced reliability, speed, and range. However, to utilize the Thread option, you will require a compatible border router like the Nanoleaf Lines or Apple HomePod mini.
For added convenience, the Nanoleaf Essentials bulb is compatible with Google Assistant and Apple HomeKit, allowing you to control your lighting using voice commands. Unfortunately, it does not integrate with Alexa.
In terms of lighting options, this bulb shines. The accompanying app offers a wide range of features, including default scenes and color presets to suit various moods and settings. If you prefer a more personalized touch, you can create your own scenes from a staggering selection of over 16 million colors. Additionally, the app allows you to set up dynamic scenes with changing colors, providing an immersive lighting experience.
Overall, the Nanoleaf Essentials bulb is an excellent choice for those seeking advanced smart lighting features. Its app-controlled functionality, compatibility with popular voice assistants, and extensive customization options make it a standout option in its category.
Wyze Bulb Color, 1100 Lumen WiFi RGB
With an impressive output of 1,100 lumens, equivalent to a 75-watt bulb, the Wyze Bulb Color stands out as one of the brightest bulbs available on the market. Most bulbs typically emit around 800 lumens, making this bulb a standout option.
Despite its exceptional brightness, the Wyze Bulb Color remains affordable, making it an attractive choice for consumers. Additionally, it boasts an easy-to-use app that enhances user experience. The bulb offers a wide color-temperature range, allowing you to customize the lighting to suit your preferences. Furthermore, it has the ability to dim to your desired level, providing optimal lighting for any occasion.
The bulb's timers and scheduling features are reliable and convenient. It also offers unique features such as the ability to mimic sunrise and sunset lighting, creating a pleasant ambiance in your home. Additionally, it includes Vacation Mode, which enhances security by giving the appearance that someone is home while you're away. Furthermore, the Power Loss Recovery feature allows you to personalize the settings of the bulb after a power outage, ensuring your preferred lighting is restored.
Overall, the Wyze Bulb Color showcases outstanding brightness, affordability, a user-friendly app, and a wide range of features. It is a reliable and versatile option for those seeking high-quality smart lighting for their homes.
What to Consider When Choosing a Color-Changing Light Bulb
Indoor or Outdoor Use
While color-changing bulbs are commonly used indoors to create ambiance for social events or relaxation, they can also be used outdoors to add a touch of magic to outdoor gatherings, spotlight objects in the garden, or even enhance swimming pools. When selecting a color-changing bulb for outdoor use, it is vital to ensure that it is weatherproof and specifically designed for this purpose. Look for bulbs labeled as indoor-outdoor compatible or specified as weather-resistant, humidity-resistant, or safe for outdoor use. Some bulbs are even waterproof and suitable for use in swimming pools, as long as they are placed in sealed light fixtures. Keep in mind that weather or humidity-resistant bulbs should be protected from heavy rain or severe weather conditions. For a reliable outdoor option, consider the Kuniwa Color-Changing Spotlight Bulb, our top pick for outdoor use.
Smart Features
Color-changing LED bulbs generally fall into two categories: those that are smart and app-compatible, and those that are controlled by a remote. Budget-friendly options often rely on remote control for changing colors, adjusting effects, or turning the light on and off. With remote-controlled bulbs, you typically need to be in the same room as the bulb to control it. On the other hand, smart color-changing LEDs offer a mobile app that allows you to control the light remotely via Bluetooth or Wi-Fi. These apps provide options to turn the light on or off, adjust brightness, select colors, or choose specific lighting effects. Advanced smart bulbs can also be integrated with a smart home hub for automation and routines. Many color-changing smart bulbs, with or without a hub, are compatible with voice assistants like Alexa or Google Assistant. Notably, the Nanoleaf Essentials bulb, our top pick for features, offers extensive smart home compatibility, including Thread, Apple HomeKit, Google, and Bluetooth.
Range of Colors and Effects
Remote-controlled color-changing bulbs usually offer a limited range of color options, typically ranging from 10 to 16 choices. In contrast, smart and app-controlled color-changing bulbs offer millions of colors, allowing for endless possibilities. The Philips Hue White and Color Ambiance Smart Bulb, our overall best pick, falls into this category. Additionally, many color-changing bulbs offer various lighting effects, such as waves, strobes, blinks, flashes, and alternations. Some bulbs can even sync with music or match the colors on your screen while watching a movie. Smart bulbs tend to offer more advanced customization and a wider range of effects compared to non-smart options.