Q: I often need to do some work in the basement, is there any light suitable for basement lighting?
A: As there is no natural lighting in the basement, efficient lighting is required. We recommend LED shop lights. LED shop lights, also known as LED garage lights, are frequently used in shops, garages, workshops, and other places. They are also very effective in basements.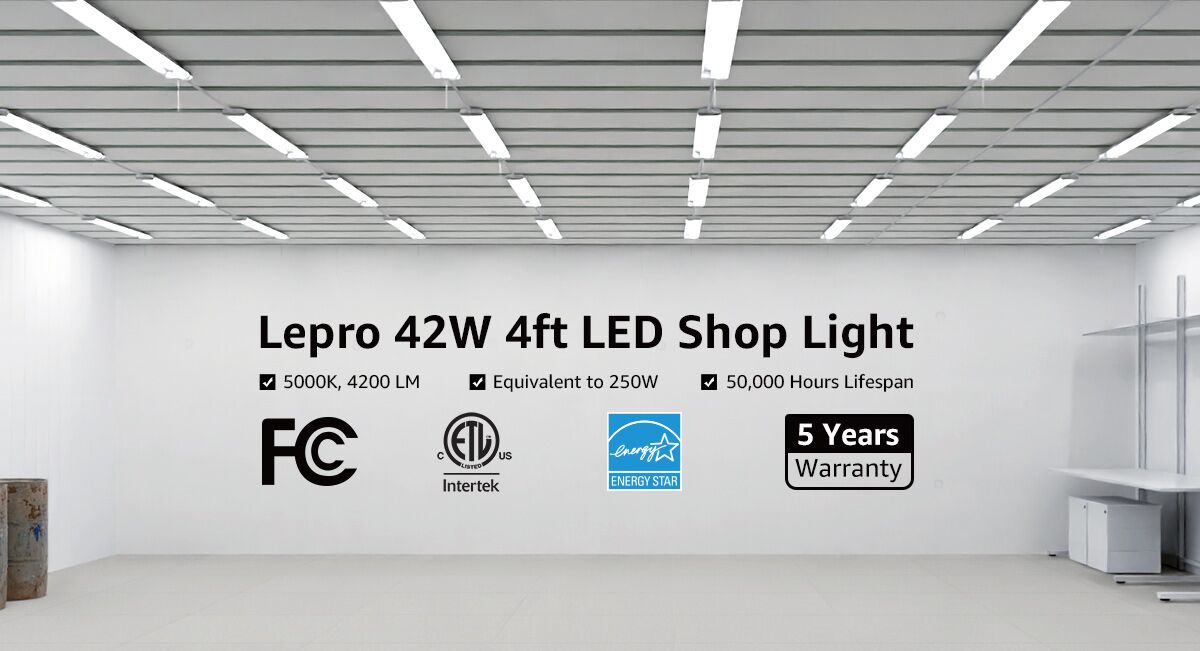 Part 1. Why Choose LED Shop Lights for Basement
If you are thinking of installing LED shop lights in your house basement, it will definitely be the most suitable.
Efficient and power saving. LED shop lights have high efficiency and low energy consumption. Using Lepro 42W LED shop lights as an example, it is equivalent to a 100W fluorescent tube, saving 60% on the electricity bill.
Easy installation. As the installation of LED shop light is very simple, it is possible to install it yourself at home. Of course, taking safety issues into consideration, an installation by professionals is the most appropriate. The specific installation method can be found in the third part of the article.
Durable. The service life of LED shop lights is generally longer, so there is no need to replace the bulbs as frequently as before. Lepro LED shop lights also provide a 5-year warranty, so you do not have to worry about any usage problems in the short term.
Part 2. Why Choose Lepro LED Shop Lights
There are many brands of LED shop lights on the market, but Lepro LED shop lights undoubtedly have the highest price-performance ratio.
Quality assurance. Has FCC and ETC certification as well as a 5-year warranty.
Affordable prices. Price is a very important factor when buying, and the price of LED shop lights are very affordable. The 4 packs of 42W 4ft LED shop lights are priced at $99. You may also receive Energy Star Rebates.
Efficient lighting. The brightness of 42W is 4200lm, 100lm/w. The 42W LED Shop Light is equivalent to a 100W fluorescent tube light, saving you a considerable amount on electricity bills.
Easy installation. A detailed video tutorial is provided below to teach you how to install LED shop lights. The product also includes the necessary accessories, including hanging chains, screws and hooks, making the installation very simple. In addition, if you need to install multiple LED shop lights in your basement, you may also connect them in a series, up to 8 at the same time.
Part 3. How to Install LED Shop Lights
You just need 4 simple steps to successfully install LED shop lights in your basement. For details, you can watch the video below, or check the page to learn more.
Part 4. How Many LED Shop Lights Should I Install in the Basement?
If you want to calculate how many LED shop lights you need to install in the basement, you must first know the illuminance required to illuminate the basement. Determine the dimensions and installation height in the basement, and then calculate how many are required to achieve the lighting needs based on the parameters of the light. For more precision, you may use professional lighting design software such as DIALux or AGI32 to perform calculations by importing the IES file provided by the light.