Who doesn't like saving money? When it comes to electricity, saving money can be challenging to do. However, you can see energy savings of up to 70% with LED wall pack lights. These lights tend to last for years and don't need any maintenance for nearly 50,000 hours. Another significant aspect of this type of light is its improved safety, as they can be affixed to any location where more security is desired.
Why Consider Energy-Saving LED Wall Pack Photocells?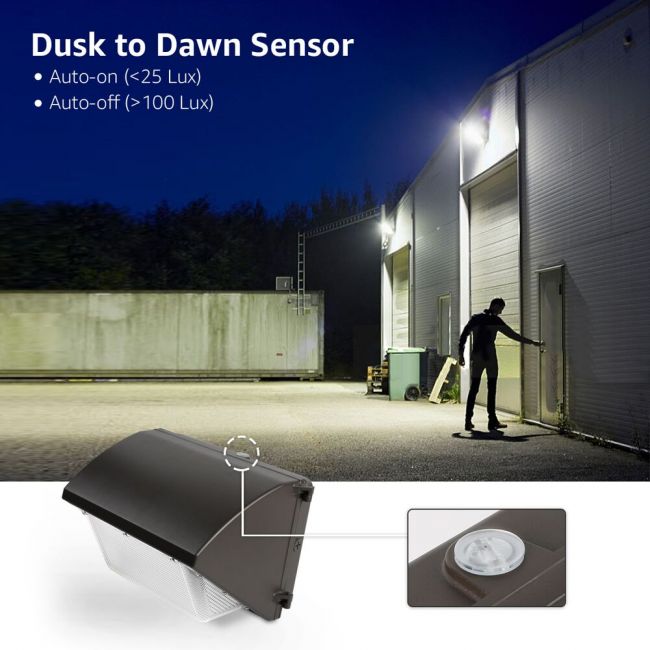 When buying LED wall pack lights, keep the word "photocell" in mind. They work similar to photoresistors, sending the circuit signals that more current or less current is needed. These photocells were installed in the production process to eliminate the need for integration, or you have to purchase them separately and install them yourself.
The best use of the photovoltaic cells is in wall-mounted packages, designed to turn on at dusk and off at dawn (when there is light). This kind of operation lowers the maintenance costs and increases the LED's lifespan. LEDs can lower a person's energy consumption by nearly 70%. Add photocells to that, and the energy consumption drops by 80%.
5 LED Wall Pack Lights with Photocells to Consider for Home or Office
Lepro LED Wall Pack Light with Photocell
LEDMO 120W LED Wall Pack Light
Dakason LED Wall Pack 60W
HYPERLITE LED Wall Pack Light 70W
Hykolity 120W LED Wall Pack
Lepro LED Wall Pack Light with Photocell

If you want a high-quality light source, then you need to consider the Lepro LED wall pack lights. Meant for use outside, it provides residential and commercial buildings with plenty of illumination that requires little to no maintenance, whether you choose their 40W, 80W or 120W lights. The manufacturer has also included the package a dusk-to-dawn photocell sensor.
When the natural light hits the LED lamp, it automatically powers down, powering up when the light is nearly gone. Great places for this wall pack light include walkways, parking areas, loading areas, garages, etc. It's ideal for any outdoor space where more security is necessary for the evening and overnight hours.
Since it's designed to work outdoors, the manufacturer made it resistant to any type of moisture with the IP65 waterproof casing. The manufacturer also focused on safety and light efficiency, using material that ensured a UL and DLC listed rating.
Pros:
Dusk-to-Dawn feature
Flicker-free
High-quality Lumileds LED
IP65 waterproof & anti-surge protection
DLC & UL listed for rebate and safety
LEDMO 120W LED Wall Pack Light
The LEDMO 120W wall pack light is best used for commercial purposes and has a nearly 16,000-lumen count that can brighten spaces of about 110 degrees. It lasts three times longer than any 400W metal-halide fixture. It has a watertight cover that can be easily removed for access. The light can be set upon a "recessed" junction box or wired via a conduit.
The packaging may surprise you because the light is well-enveloped by foam padding and comes with an instruction book in both English and German. (Not too surprising since the lights were produced in Shenzhen.
Something missing from the instruction manual is the wires' color-coding – it could be problematic for many people. The specs are based on the European model, which means the following: Brown – live, Blue – neutral, Yellow/Green – ground.
Dakason LED Wall Pack 60W
What makes LED wall pack lights so versatile is that you can give them a tight angle, focusing on a particular area so that the light doesn't hit somewhere you don't want it to be. If you're going for energy-efficient, this LED wall pack has only 60W of power. It's been designed with a built-in photocell sensor, saving you energy and money because it turns on and off in the absence or appearance of light. With this power-saving feature, it can last up to 50,000 hours.
If this isn't a feature you need, you can use the photocell cover to hide the photocell.
You'll need to do some research into how to install these Dakason LED Wall Pack, as the packaging has no mounting instructions included.
Pros:
Easy to install
50,000 hrs lifespan
ETL qualified, DLC listed
Cons:
HYPERLITE LED Wall Pack Light 70W
The affordable Hyperlite 70W exterior wall lighting comes with a 9,100-lumen count with a 120-degree angle that can give off 5,000K light. It's one of the brightest on the market. The product includes photocells that you can choose to use or not, depending on the situation.
Brightness will affect the photocell when used, causing it to flicker. If so, then you'll need to make some adjustments:
Move the photocell sensor somewhere where the light of the mounting point affects it. The best place for adjustments to be made is at the top of the wall pack.
Use clear tape to wrap the photocell. However, don't completely cover the light sensor
If you need assistance, you can reach out to the manufacturer for help.
The package does offer in-depth installation instructions to help consumers quickly install the wall pack light. However, it's important to note that the DLC listing the manufacturer claims to have doesn't appear to match the actual DLC listing.
Pros:
Good price
Photocell auto ON/OFF
Very bright
Detailed installation instructions
Cons:
It is said that DLC listing does not match the manufacturer.
Hykolity 120W LED Wall Pack
Hykolity's manufacturer came up with the 120W LED Wall Pack Light, which offers 15600-lumen output that can cut your electricity bill down 80% and burns brighter than the 400W MH/HPS. The 0-10V dimmable can be used with the majority of LED dimmers, but you'll need to buy the photocell as one is not provided with this product.
It's super affordable and has two mounting options – conduit mount or direct wall mount. With the conduit mount, the lights are tied together, meaning you control them all simultaneously. With a direct wall mount, you need to use the installed junction box to control the individual lights.
Pros:
Super bright
Great price
DLC Complied
Two ways to mount
Cons:
Photocell is Sold Separately