Generally speaking, LED flood lights found in outdoor use are distinguished by whether they have a motion sensor. LED security lights that come with a motion sensor enter into the motion detection mode at night, and light up when motion is detected. Meanwhile, wireless solar LED lights absorb sunlight during the daytime through solar panels, and convert solar energy into electrical energy to power up the light. In the following, I will recommend some of the best models of solar LED security lights that come with motion sensors.
Best 5 Solar LED Security Lights Outdoor
1. Lepro Solar Security Lights Outdoor
High brightness: Lepro offers a variety of different solar light models. You can choose the model that comes with 3 adjustable heads, 70 LED beads, 6W 1,200 lm, beam angle of 270°. A two-pack costs $35.99.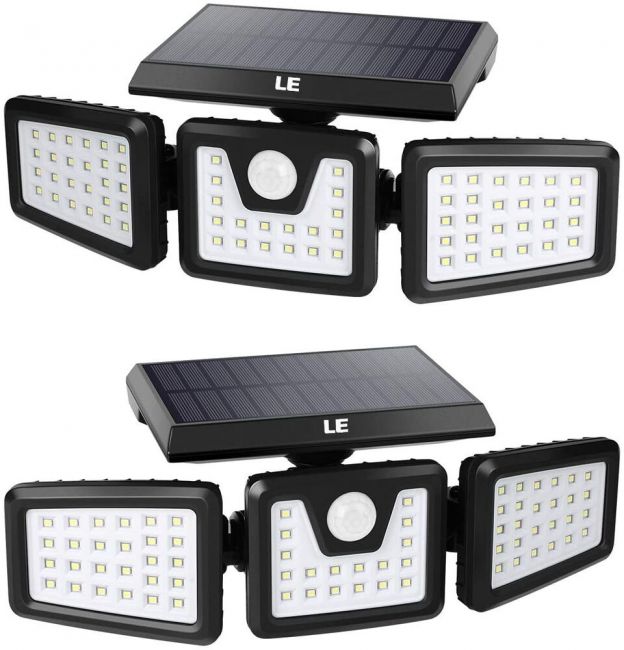 You can also choose the model with 132 LED beads, 8W 1,800lm, beam angle of 270°, which can also meet your lighting needs. A two-pack costs $38.99.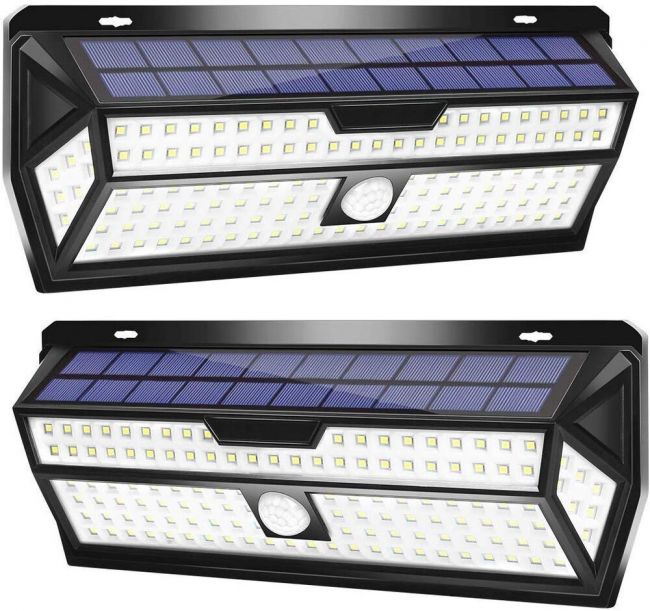 If you prefer a smaller model, you can choose the model that comes with 32 LED beads, 2W 400lm. A four-pack costs $29.99, and a single piece costs $7.5, which is very affordable.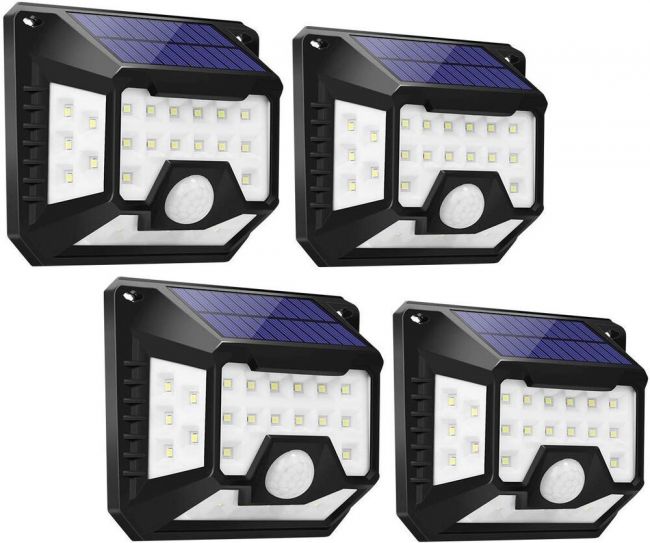 High efficiency and energy saving: Equipped with solar panels and built-in 1,800 mAh 18650 rechargeable battery. During the daytime, the solar panels absorb sunlight and convert solar energy into electricity, which is stored in the built-in rechargeable battery. Also, this Lepro solar flood light also comes with a sensitive motion sensor, and you can set it to turn on the LED light only when the movement of a person is detected.
Easy to install: Install the lamp directly in a place with direct sunlight. There is no need to connect to an external power supply. Also, with IP64 protection grade, it can be installed outdoors without worries over bad weather.
2. URPOWER Wireless Waterproof Motion Sensor Outdoor Light
Low price: URPOWER offers solar LED lights in several sizes. The long version comes with 44 LED chips, and a four-pack costs $49.99. There is also a smaller model that comes with 8 LED beads, and a four-pack costs $29.99.
Wide application scenarios: IP64 protection grade, waterproof, heat-resistant, and adaptable to any kind of weather. All you need to do is place the URPOWER motion sensor light in the sun to charge with solar energy for 6 to 8 hours, and it will function normally in the night time. It is suitable for use in places such as the front door, garage, and backyard.
Easy to use: This model does not come with a switch. When someone enters within the range and distance of the motion sensor at night, it will automatically turn on strong light for 30 seconds. You do not need to set it up manually.
3. Hmcity Solar Lights Outdoor with Light Reflector
High brightness: Equipped with 120 LED beads and a beam angle of 270°, it can illuminate about 30 square meters of a yard.
Sensitive PIR motion sensor: With a detection angle of 120°, it can detect any movement within up to 26 feet, and can automatically illuminate for about 30 seconds each time.
Quality assurance: IP65 protection grade, waterproof, and made from heat-resistant materials. Certified by FCC, CE, RoHS, and comes with a one-year warranty.
4. LITOM 120 LED Solar Lights Outdoor
Durable: IP67 protection grade, allowing for greater adaptability to harsh environments; be it a garden, deck, backyard, or external wall, your lighting needs will be met. Comes with 120 LED beads, and a four-pack costs $41.99.
3 lighting modes: You can set the LITOM security light to turn on strong light automatically when human activity is detected at night, or turn on dim light or medium-light all night long.
Easy to install: The motion sensor light comes with a mounting clip. First, install the clip onto the wall, and then hang the LED solar flood light directly on the wall. If you want to change its position, you only need to lift the lamp up, and will not need to loosen every screw like with other lamps.
5. ZOOKKI Solar Lights Outdoor
Affordable price: Every LED security light is equipped with 28 high-brightness LED beads, with a brightness output of 400 lm. A four-pack costs $34.99, and a one-pack costs only $6.86, which is very good value for money.
Wide application scenarios: Made of high-strength ABS, waterproof, heat-resistant, and able to withstand rain, snow, and other kinds of extreme weather. This outdoor solar safety light can be used at swimming pools, garages, and stairways.
Quality assurance: This product has passed tests for various certifications including TUV, CE, RoHS, and FCC. It also comes with a 30-day money-back guarantee and a 24-month product warranty.
The 5 most popular solar LED security lights have been introduced above. To find out more, check the Lepro solar flood lights product category.