As the evenings become darker, it's more critical than ever for homeowners to ensure their outside areas have adequate lighting. While you would use solar lights and string lights to beautify your garden in the summertime, you also need to have a reliable outdoor security light installed for the winters to protect your home.
Choosing the appropriate outdoor security light might be a challenge because there are so many options available. These suggestions should take out the legwork needed for locating the best one for your house.
Where to Install Security Lights
Identify the location where you intend to place the outdoor security light before you begin your search for the perfect model. The most crucial question is how much space needs to be covered by the light? Your chosen space's lighting quality can be greatly influenced by the light fixture's height and angle of installation.
It's crucial to consider where doors, windows, gutters, and drains will be in order to determine the best location as early as possible. Make a rough estimate of the size of lighting that will sit in the area once you've found it. No use in purchasing a high-powered security light if you discover that it won't fit in the location you've selected.
Make the Upgrade to LED Security Lights
In the past, the majority of outdoor security lights were powered by halogen light bulbs, which consume 20-30% less power than outdated incandescent lamps but are not anywhere near as efficient as LED light bulbs in terms of energy savings. In this scenario, LED light bulbs have a far longer lifespan than incandescent lights. When compared to halogen bulbs, LED floodlights may last up to 30,000 hours or greater. This lengthy lifespan means that you not only save a lot of money but also won't have to change bulbs again and again. LED floodlights are an excellent investment for this reason alone.
Determining the Appropriate Brightness Levels for Your LED Security Lights
To a large extent, your decision will be dictated by the size of the area that needs to be illuminated. An outdoor floodlight that outputs 700-1500 lumens is sufficient for balconies and driveway areas, but commercial areas like parking lots and small fields would require far more powerful floodlights. In terms of choosing security lights, there is no one-size-fits-all guideline, but the following is a basic guide that may be helpful.
| | |
| --- | --- |
| Regions | Lumens |
| Mini Patios | 500lm |
| Driveways | 1500lm |
| Small Gardens (50m²) | 1600lm |
| Medium Gardens (150m²) | 2400lm |
| Car Parking Lots | 9000-20000lm |
Outdoor lighting is very dependent on location and angle, as we've just discussed. When combined with your selected floodlight's brightness output, these lights will provide you with a bit of extra coverage. However, if you're already aware that the lighting won't be positioned in the ideal location, you may take that into consideration when determining the required floodlight brightness.
Types of security lights
When it comes to choosing security lights, there is a wide array of options to choose from. Below, we've talked about some of the best options that work well for a range of needs.
Flood Light with Motion Sensor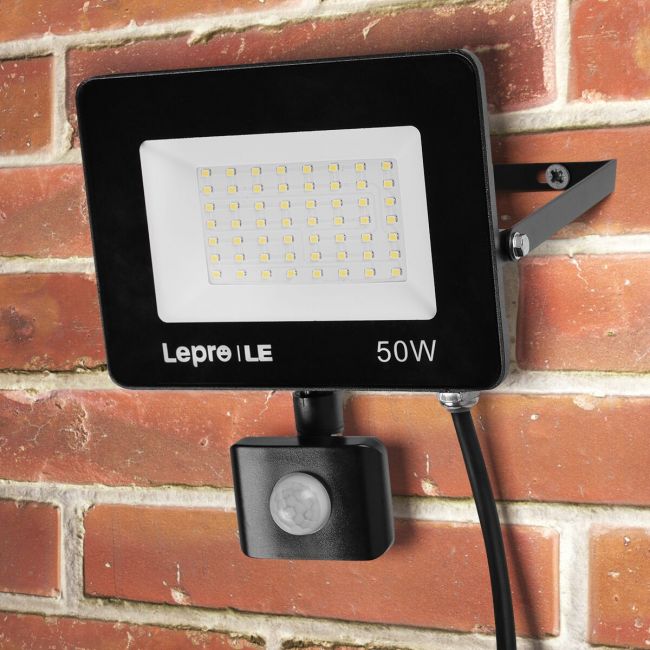 The use of motion-activated lights in the house is an incredibly major element of home security. In certain cases, keeping the lights on all night helps dissuade criminal activity, but this is not the best option. Motion-activated lights can scare away burglars, making them rethink their plans to get into your house.
In addition to being energy efficient, motion-triggered lights are also cost-effective since they are only activated when they detect movement. This helps to reduce energy usage without compromising any of the security features. Although there is a risk that motion-activated lights would turn on during the day, we are certain that this will not happen. Because they feature built-in light sensors, motion-triggered lights are only powered at nightfall and morning.
In order to prevent your pet or other small animals from tripping the lights, motion sensor flood lights could also be configured to disregard movement from tiny animals such as cats and dogs.
LED Wall Pack Light
A wide variety of commercial LED wall pack lights are available for use in a variety of settings. On ceilings, above doors, and in other hard-to-light locations this sort of security lighting provides enough lighting for business and safety purposes. Lepro 40W wall pack light and 80W wall pack light are good choices for your backyard or garage outdoor lighting.
Some of the best applications:
Parking garages, walkways, apartment complexes, and perimeter lighting.
Landscape Lights
Exterior Design and Planning Lighting with LED Accents is energy efficient and provides uniform illumination across a building. Many advantages come with LED landscape lighting, which can be utilized to brighten various aspects of a house or apartment.
Some of the best uses:
Patios, statues, trees, shrubs, pathways, gardens, walls, gazebos, stairways, and other smaller spaces.