When Should I Choose LED Can Lights?
LED recessed lights, also called LED can lights, LED downlights, are a type of LED lighting fixture embedded into the ceiling whose rays shoot downward. Installed in the ceilings of rooms without taking up much ceiling space, they make the room look and feel bigger compared to when using other lights for illumination. At the same time, since LED recessed downlights' rays are cast directly downward, they can also be used as spotlights, extremely suitable for exhibiting artwork or for smaller reading areas. LED recessed lights are more concentrated relative to ordinary light bulbs, but compared to highly concentrated flash lamps, their rays are much gentler, which can create a cozier feeling. They are often used to illuminate such places as living rooms, bedrooms, kitchens, basements, meeting rooms, corridors, shops, and hotels.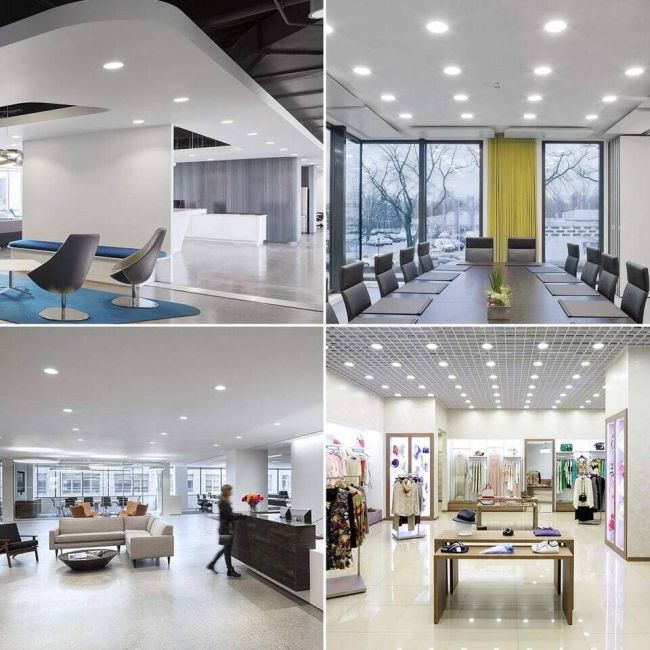 How to Choose LED Recessed Lighting Fixtures
So then how should we select suitable LED recessed lights? The most important things to pay attention to are size and color.
Size
First of all, if you are altering or replacing LED lights, then you should refer to your current illumination lights for the measurements of the LED recessed downlight that you select to purchase. If you are installing an all-new design, then you should also pay attention to the fact that the light emission effects of downlights of different sizes are also different. The larger-sized LED can lights have relatively higher power, and they will emit light more extensively. The height of the ceiling and the size of the area that needs to be illuminated will both influence the selection of the size. In addition, if you need multiple LED recessed lights to illuminate a room, the size that you select will also influence the quantity of lights required.
Color & Color Temperature
When selecting lights, we often will select warm white, cool white, or daylight white, with color temperatures varying from 2000K to 6500K. Everyone knows that the feeling created by the different colors and color temperatures of the lights will also be completely different. The color temperature value of warm white is probably 2700K-3000K, making people feel a kind of cozy, comfortable ambience, suitable for use in rooms such as bedrooms, living rooms, and kitchens. When the color temperature value is 4000K, 5000K, or higher, cool white or daylight white lights will make the room appear even brighter, suitable for use in such places as shops, offices, or conference rooms.
In actuality, you can select dimmable LED recessed lighting so that you can adjust the brightness of the lights based on the situation at different time intervals, feeling the most comfortable light illumination.
Apart from the size and the color of the lights, LED can lights' parameters, such as brightness, power, and angle of light emission should all be scrutinized so that the most suitable lighting fixtures may be picked out based upon the actual circumstances.
Recommend the Best LED Recessed Lights
If you are searching for LED downlights that are suitable for use in bedrooms, living rooms, corridors, conference rooms, offices, kitchens, or other places, we hereby recommend Lepro LED recessed lights. At present, you may select 8.6w 4 inch LED recessed lights and 12.5w 5/6 inch LED can lights, and you can check out the product details to learn more.
The main highlights are as follows:
The product materials are handy, and installation is simple, as you can install them without requiring professional help.
The products are compatible with dimmers; they are dimmable, which saves on electricity costs.
There is no glare, and there is no flickering; they can protect the eyes very well, boosting comfort.
The products have been UL FCC ES-certified, and they have a 5-year warranty; they are guaranteed as safe to use.
How to Install Recessed Retrofit Downlights
The following video presents how to use LED recessed lights. Click to check it out in order to learn the steps in detail.
LED Recessed Lights VS LED Ceiling Lights
What is the difference between LED recessed lights and LED ceiling lights, both of which are lighting fixtures installed on ceilings? In terms of the installation position, LED recessed lighting are embedded into the ceiling without taking up extra space, while LED ceiling lights are hung from the ceiling without taking up a certain amount of space. Comparatively speaking, recessed LED lights will make the room appear bigger.
Second of all, the scenes in which they are used differ somewhat. In some rooms with relatively low ceilings, such as basements, hallways, and staircases, using LED can lights will not take up too much space, and it will not pose the extra threat of people bumping their heads. They are better suited for illumination.
In addition, as a kind of spotlight, LED downlights project their rays directly onto the floor. Their illumination is more layered in cramped areas. In particular, when they are used for exhibiting artwork, they can create different ambiences. And LED ceiling lights' rays have broader range: oftentimes, it thus suffices to use 1-2 of them for illumination in a room.
No matter what sort of light fixture you select, it is most important that it suits the scene that you need and can satisfy your illumination requirements. If you would like to learn more, you can click to check out the LED recessed lights details.