Why Use LED Flat Panel Lights?
LEDs can help you save on lighting costs, saving up to 60% of energy while maintaining brightness. And they have a longer average life span. For example, Lepro LED panel lights have a super long lifetime of 50,000 hours.
Besides, LED lighting is a kind of cold lighting source, which keeps the surface of the light board cool even after several hours of use, which means that the overall temperature of your location is no longer affected by the lamps. When you choose a new LED panel light to replace the traditional halogen lamp, it comes to the question of how to install the LED panel light. And this article will provide the full answer
How to Install LED Flat Panel Light
Before You Install LED Panel Light
Basic safety precautions should always be followed when installing, including the following:
The power supply of the LED Panel should be powered by a dedicated external LED driver.
Disconnect the power supply before installing or maintenance.
Make sure the wires have been properly connected before powering on the device.
Ensure the product has enough space for heat dissipation.
Ensure the luminaries are never covered by any heat insulation mat or slim layer material at any time.
Installation Procedure of Flat Panel Light
Recessed Mounting of Panel Light
Step 1. Remove the ceiling plaster slab.
Step 2. Feed the main AC wire in the driver terminal block respectively and connect the panel light and driver.
Step 3. Fix the panel light into the plaster ceiling. Make sure the led panel light is firmly fixed, turn on the power.
Suspended Mounting of Drop Ceiling Light
Step 1. Fix the anchor into the target place on the ceiling. Fix the installation mount on the ceiling with the anchor.
Step 2. Hang the panel to the ceiling with a suspended installation kit and adjust the length of steel wires.
Step 3. Feed the main AC wire in the driver terminal block respectively, and turn on the power.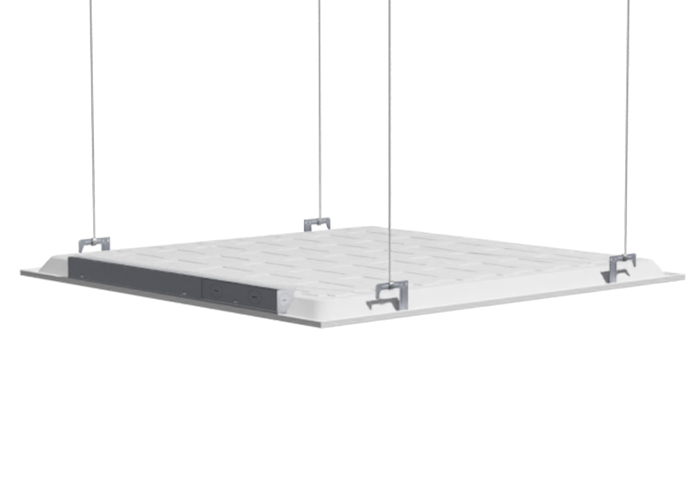 Recommend the Best LED Panel Lights
If you are looking for LED 2X2 panel lights or 2X4 panel lights for commercial usage, Lepro flat panel light is the best choice. First, the products come with ETL and DLC certificates for safety and rebates. Second, the panel lights come with a 5-year warranty and the product quality is guaranteed. Besides, as a substitute for the traditional HID lamps, Lepro ceiling panel lights could basically save over 60% of the electricity cost. You can click to find more information about Lepro panel lights.