Lepro.com is the official online store of the Lepro brand which provides consumers with a variety of LED lights. In this area, we will walk you through how to quickly register, login and place an order on the lepro.com website.
1. Registration
Whichever page of the website you are currently on, you can click "Register" in the upper right corner to enter the registration page. Business customers can directly click: https://www.lepro.com/btwob/account/create/ to start registration; if you need to register a personal account, please go to https://www.lepro.com/customer/account/create/ to register.
1.1 Business Account Registration
If you are a business customer, you can enjoy a 10% discount on lepro.com after successfully registering. As you spend more on the website, you can get a higher level of discount when you reach a certain amount.
For a business account registration, just fill in the relevant information as prompted on the page. It should be noted that business customers are also divided into three categories: Contractors and Designers, Business End Users and Distributors. Please choose the category that reflects your actual situation.
Contractors and Designers customers can provide their corresponding tax exemption certificate. After passing a review, they can be exempted from tax when shopping on lepro.com.
If you are registering for a Distributors account, please fill in your business-related information in the corresponding box. We will review it within 24 hours. You will be notified by email whether your application is approved or not.
1.2 Personal Account Registration
You can also switch to register a personal account. Personal account registration only requires that you fill in your name, email address, and account password in the corresponding boxes to successfully register. After successfully registering, you will receive a confirmation email.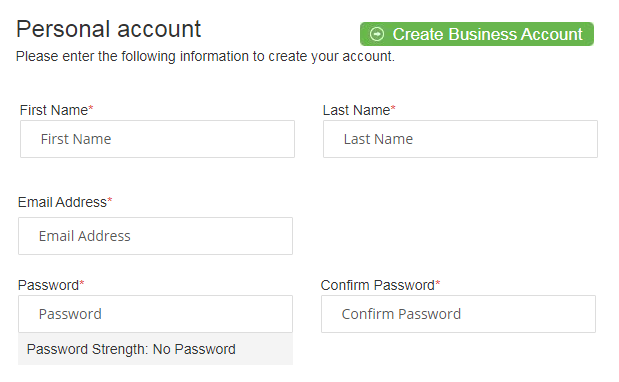 2. Login
If you have already registered a lepro.com account, click "Login" in the upper right corner of the page to enter the login interface.
Here you can fill in your email address and password to login successfully. If you have accidentally forgotten your password, you can click "Forgot Password" below to reset your password.
3. Place Orders
If you have a business account, you can enjoy the corresponding discount after logging in, so please remember to login before placing an order.
Step 1. Add to Cart
On the product details page, click "Add to Cart" to put your favorite products into the shopping cart, and enter the required quantity in "QTY".
Step 2. View the Shopping Cart
After adding items to the shopping cart, you can see the products you have added in the shopping basket in the upper right corner. At this time, you can click "View Cart" to view the information of the shopping basket, or you can directly click "Secure Checkout" to settle the payment.
On the shopping cart page, you can see the price of the items added to the shopping basket. If you have a coupon, you can enter it here. The required shipping and taxes will also be shown here. When the purchase amount of each order exceeds $39, you can enjoy the Free 2 Day Shipping service; if a single order amount is less than $39, you need to pay an additional $3.99 to quality for the 2 Day Shipping service.
Step 3. Payment
Next, you can directly click "Checkout with Paypal" to pay with Paypal, or click "Secure Checkout" to select other payment methods. We accept Credit Card or Debit Card, Paypal, Resolve and other payment methods. Please fill in the shipping address and payment information by following the prompts, and finally click "Place Order" to successfully place the order.
The above covers the whole process of registering, logging in and placing an order on the lepro.com website. If you encounter any problems during this process, please feel free to contact our customer service team: cs.oc@lepro.com, or call + 1 866-287-2558 (Mon-Fri 9:00-18:00 EDT). We will endeavor to resolve your problem as soon as possible. Enjoy shopping!