Generally speaking, modern warehouses are constructed using a building technique, where steel frame structures are employed, and metal plates are wrapped around all the vertical steel columns, except where the doors are installed. The size of the warehouse may range from a few meters to a few hundred meters, and the vertical height can extend from a few meters to more than 20 meters. However, since the combination of high shelving units and narrow aisles in the warehouse may interrupt and obstruct the flow of natural light, these spaces must be illuminated artificially.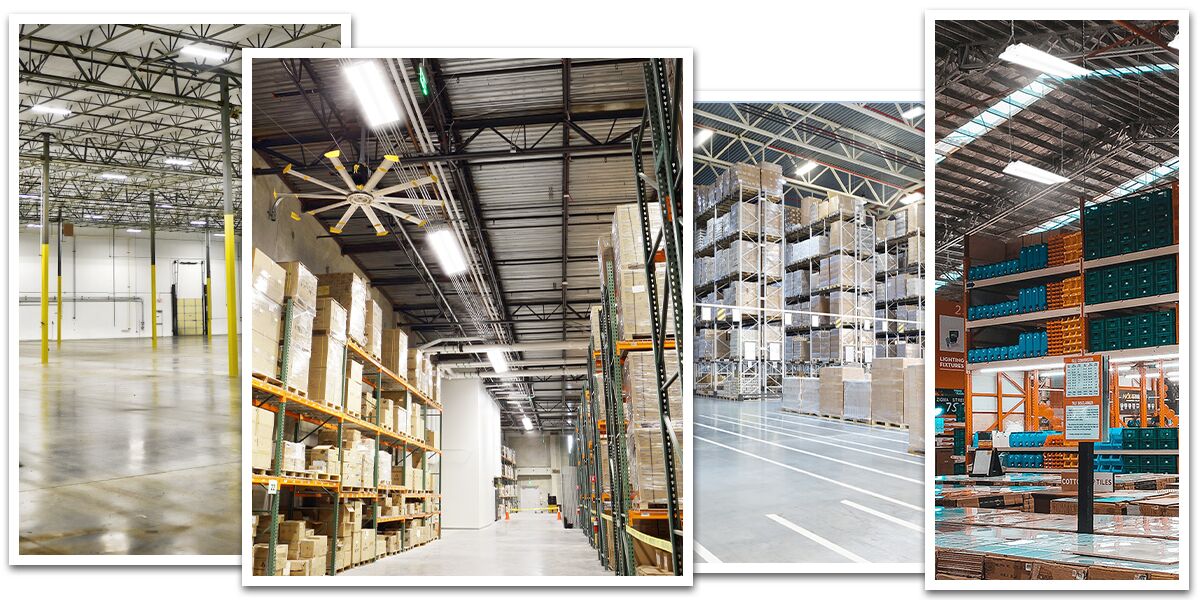 Requirements for Warehouse Lighting
Investing in and installing adequate and proper illuminants in a warehouse environment will enable employees to perform their visual tasks accurately and effectively. As per the OSHA workplace lighting requirements, the minimum illumination standard in respect of warehouses is 10 ft-c (foot-candles). The lux level requirement of the warehouse loading bay is 30–40 ft-c, while that of warehouse aisles is 10–20 ft-c. Besides, when choosing lighting fixtures for warehouse locations, people often tend to focus on factors such as appropriate color, longevity, durability, non-toxicity, and excellent heat dissipation.
LED High Bay Light Fixtures meet almost all the requirements of warehouse lighting. Plus, contractors prefer to choose LED fixtures to save money on maintenance costs and electricity bills. Here are 5 benefits of choosing LED High Bay Lights:
5 Reasons to Use LED High Bays for Warehouse Lighting
Cold Lighting Source
LEDs are typically a type of cold lighting source. Unlike other luminaires, LEDs do not emit heat when they are turned on. Thanks to the LEDs saving up to 20% on energy costs, they help decrease the use and need for air conditioning. Likewise, cold LED lighting fixtures are a much safer alternative than the traditional Metal Halides.
Durable
Due to the heavy-duty make of the LED high bay lights, they are solid and do not degrade over time. For example, the Lepro high bay lights are IK07 impact resistant. The premium-grade die-cast housing and durable glass can protect the light from the impact of a 0.5kg mass dropped from a height of 400mm. This light is also designed with an excellent and productive heat dissipation structure to enhance reliability and service life.
Energy Efficiency
LED light fixtures use less power to deliver the same lumens as conventional fluorescent high bay light fixtures. Hence, it implies that you spend less money on electricity when opting for LEDs over metal halide or fluorescent lamps. For example, the Lepro LED high bay lights contribute a high luminous efficiency of 135lm/w, thereby slashing the electric bill by 60%.
Light Uniformity
In conformity with our reports, LEDs increase 8% in light uniformity over conventional light options. When you switch on the LEDs, you get the full lumens you want instantaneously. There exists no form of delay, and the lights never flicker or falter. No matter how many times you turn the LEDs on and off, you will not experience any problems with the light output. However, every LED chip in an LED array has a pointed intensity, creating a glare or making the workspace extremely bright, which is a problem if workers are required to look upwards into the luminaire's face. For example, this can pose a problem for fork truck drivers when they stack the higher shelves. Thus, lighting designers need to make a trade-off between higher efficacy and visual comfort.
Long-Lasting Lighting Choice
LED high bays tend to last almost 10 times longer than Metal Halide and Fluorescent lamps. The average tested lifespan of LED high bay lights is 50,000 hours. By adopting these reliable LEDs, the frequency of replacing the bulbs is reduced, and as a result, you save a significant amount of time and money on maintenance costs in the long run.
Conclusion
LED lights are an excellent choice, whether you are looking at reducing costs or getting a better lighting environment for your warehouse. LED high bay lighting solutions are an absolute game changer and can make all the difference. Its flexibility, durability, performance, and ease of installation make it one of the sought-after ideal choices for lighting up warehouses. If you want to know more about LED high bay lights or need any warehouse lighting design advice or service, please feel free to contact Lepro.