There has been a tremendous push to convert from fossil fuels to renewable energies in European nations, especially with Russia's talk of cutting off both gas and oil supplies. Homeowners and large corporations have taken advantage of the vast number of benefits solar power provides. For example, solar lights have been helpful in rural locations where energy is expensive, and companies can highlight their eco-friendly energy product with excellent results.
The great thing about solar light installation is that it's cost-effective. There is very little cost to installing them, and they don't need the grid power to work. Solar garden lights may be the right choice if you have a garden you want to enjoy at night without the added cost.
Fully Charge Your LED Solar Lights Before Initial Use
It would be great if you could install your solar-powered lights and have them working on the first day. However, for your product to work its very best, you should make sure that it's completely charged before you use it. It takes several sunlight hours to charge up a solar light, and how long it takes depends on the amount of direct sunlight they get.
Manufacturers recommend up to two days of charging before using your solar lights the first time.
Solar security lights, when fully charged, can last between four and 12 hours with an 8.5 average of lighting. Every manufacturer's product is different, so this is important to keep in mind when shopping for solar security lights, solar garden lights, etc. Make sure to do your homework on each manufacturer and choose the proper lighting based on your needs.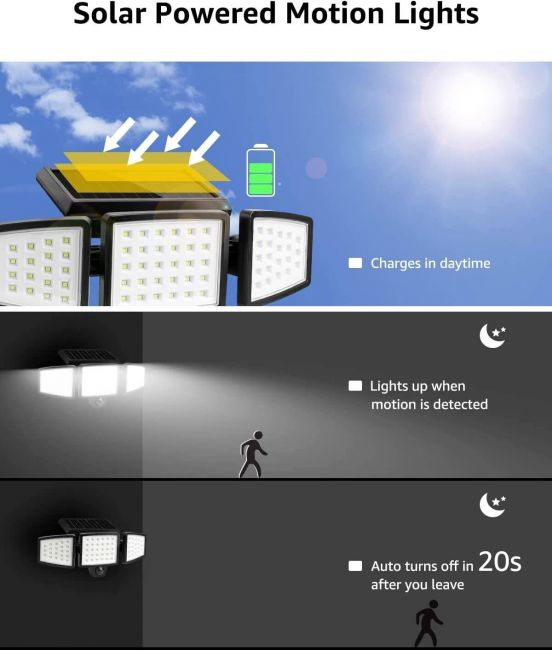 LED Solar Light Types and Illumination Times
If you want a long-lasting solar power product for your home, accent and path lighting have a range of seven to 12 hours of lighting, with an average of around 9.8. Lamp posts and hanging solar lights have a four to 12-hour lifespan, with the average being 7.3 hours of light.
Why the difference?
It's possible the placement of these products means not getting enough solar light during the day to keep them going all night. Ground lights tend to be placed in locations that get more sun as leaves, or other objects tend to shade the solar panels of mounted devices. Lepro LED solar floodlights come with separate panels, which are connected by way of a 5m long cable. The panels can be positioned in a place where the solar energy can be absorbed.
Motion Sensor LED Solar Lights
Solar lights only turn on when they have been activated, which hinders security as many people would rather have lights that stay on all night. Also, they should be charged for several days before they are turned on. Charging them for several days before using them provides the batteries ample time to come to capacity, ensuring that the reserves can last during the night if there is a cloudy or rainy day.
If you're going for solar security lights, each manufacturer's product differs in illumination time – some last for several seconds while others can last for up to five minutes. Bear in mind that a longer illumination time means it will work less overall during the night. You can always adjust/customize the length of the illumination.
The majority of solar light devices come with automatic sensors, which turn on when it becomes dusk. Or, you can also set the device to turn on at a particular time, giving it a chance to soak in more rays until you need it.
It's important to learn as much as possible about solar lighting to ensure you get the most from them for years to come.