LED Shop Lights
What Types of LED Shop Lights Do You Want?
1. Integrated LED Fixtures
It comes with both ready to use fixtures with LED light sources. In most of cases, integrated LED fixtures are better choice. Benefits are as follow:
(1) Lower power consumption.
(2) Much longer life span (Lepro offer 5 years warranty)
(3) Zero maintain cost. Do not need to change bulbs or ballast Frequently.
(4) No compatibility issues typically associated with using LED lights. 
So, it's better choice for new constructions and renovations.
2. Retrofit Shop Lights
Traditional shop light fixtures usually use fluorescent bulbs as light sources. Some clients do not want to replace fixtures. Retrofit is one of the more common option. Just replace fluorescent tube with LED tube. If you want to know how to update to LED, please read article How to Convert 4ft Fluorescent Tube Light to LED.
It's a money saving option to update your shop lights to LED. Please click to check our T8 LED tube lights.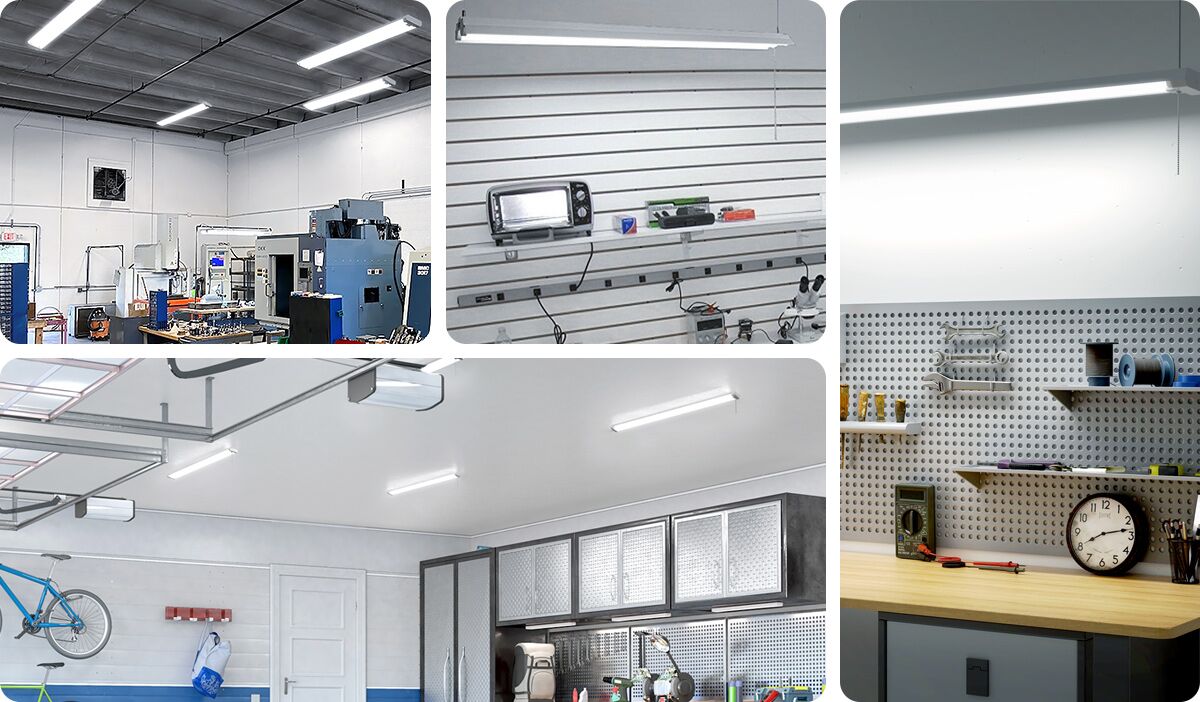 Benefits of LED Shop Lights
Shop lights, garage lights, workshop lights, and other commercial regularly use LED Shop Lights. You may have also heard the term LED garage lights which is another name for LED Shop Lights.
In terms of color rendering, color temperature, and lumen output, LED Shop Lighting is superior to other types (when measuring wattage used).
LED Shop Lights have a far longer lifespan than other varieties, which means they need to be updated less regularly. This is especially true for high bay lighting, which often necessitates the use of elevators or scaffolding to reach the fixtures.
Although LED Shop Lighting is initially more expensive, you will save money in the long run because they use far less energy than traditional lights. Over time, you will see a reduction in your utility expenses and energy use.
Finally, LED Shop Lights produce a concentrated light beam that can be directed down and out toward the floor or work area.
What Mounting Method of LED Shop Lights Do You Need?
1. Hanging LED Shop Lights
If you hang LED shop lights from the ceiling, make sure products come with all necessary accessories. For example, mounting studs, hooks, cables etc. Lepro products come with all necessary accessories.
In most of cases, it's better choice due to brighter lighting effect.
2. Flush Mount LED Shop Lights
Additional hooks, cables are not necessary.
Do You Need Linkable Feature?
Sometimes, you want to link multiple lights together. It's easier to set up and control lighting for a larger space. Lepro LED shop lights are linkable. Max linkable unit is 8.
How to Install Lepro LED Shop Lights
Lepro LED shop lights are very easy to install. No special wire jobs are necessary to connect to a plug. Follow the video tutorial to install Lepro LED shop lights with simple steps.
Step 1: Mark the Hanging Point
Step 2: Install the Hook
Step 3: Connect to Power Supply
Step 4: Install on the Ceiling
If you want to get the detailed guide on how to install Lepro 4ft LED shop lights, please check the article.
Related Articles About LED Shop Lights