Warehouse Lighting Design Summary
Warehouse Lighting Restrictions
Warehouses and industrial buildings exhibit unique characteristics, including few windows, high ceilings, elevated shelving, and large floor surfaces. These characteristics lead to the following difficulties in warehouse lighting:
1. Insufficient light – lack of natural light
2. Improper contrast or poorly distributed light
3. Difficult to maintain
4. Dust accumulation
5. Poor heat dissipation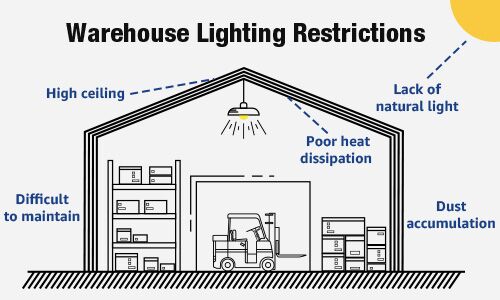 How to Choose the LED Warehouse Lighting Fixtures
More Information about Warehose Lighting
Warehouse Lighting Features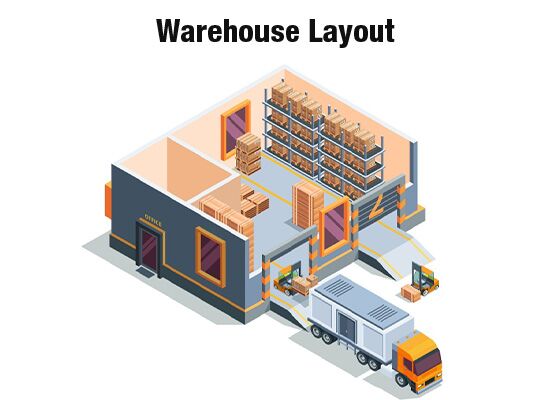 • In a modern warehouse, not only should the building be spacious and sizeable, but all lighting units must be complete and have a good lighting environment and a comprehensive fire protection system. This enables people to see the conditions in the warehouse undoubtedly. Since the warehouse must remain dry and ventilated, the lights in the warehouse are generally faint, dim, and have low luminance to reduce the build-up of heat. Hence, lighting is extremely critical and pertinent in a storage facility.
For
warehouse lighting
, • Employing appropriate illuminance should be selected based on visual requirements, working nature, and environmental conditions. Proper light diffusion and the uniformity of lights adopted, reducing unnecessary shadows and making the visual space clear, and the correct selection of light sources and lamps to limit glare, improving the safety of work and activities under the light are highly essential. Flicker-free lights are required to reduce irritability and restlessness. Therefore, it is vital to reasonably choose a light source that reduces the adverse effects of light, heat and ultraviolet radiation on people and objects. Handling light color and color rendering index creates a favorable color discrimination environment for work and life to devise a luminous atmosphere that makes people feel relaxed, comfortable, and beautiful in work and activities.
• When replacing a light source, environmental protection and energy-saving are two major elements that should be considered. Likewise, while selecting a light source with the longest life span to reduce the workforce and material resources involved in lamp replacement, improving visual conditions, making staff feel tranquil, serene, and happy under the light, and reducing the light pollution should also be borne in mind.
Why Choose LED Fixtures for Warehouse Lighting
High CRI Rating- LED fixtures have 80+ CRI rating. High CRI lighting is equally valuable in factory usage.
Light Uniformity - LED lights have great light uniformity to improve workers's safety as well as their working conditions.
Higher Energy Efficiency - High light efficacy means energy saving, low carbon and environmental protection.
More Durable - LED fixtures have a much longer lifespan than their traditional counterparts.
Controllable - LED lights are easy to be controlled, dimmed, and optimized. They can be installed with dimmer switches to allow homeowners the ability to control and select the amount of the light emitted.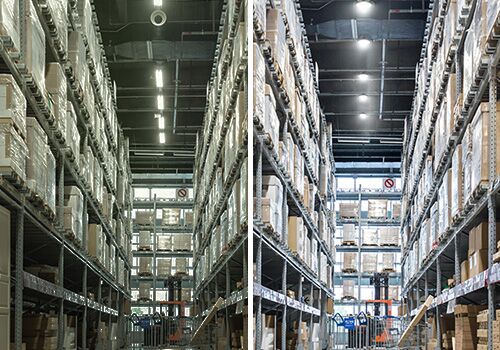 Requirements for warehouse lighting fixture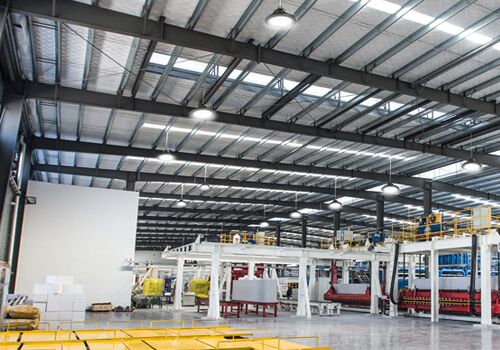 1. Meet the requirements of warehouse lighting illuminance. In general terms, the ground flux intensity of the warehouse should be at the very least be less than 50lux, in order to facilitate the identification of cargo labels, etc.;
2. Energy saving: The intelligent control of the lighting system generates two-way lighting of the warehouse, where one road can be closed during the day and two roads at night to save energy;
3. Safety: The explosion-proof lighting fixtures accompanied by features such as being waterproof, dust-proof, and giving an anti-corrosive performance should be used to ensure the safe and stable operations of the lamps;
4. Long life: Lamps with an extended life and high stability should be selected to prevent the increase in operational expenditure or maintenance costs in the later period and ensure the timely maintenance and replacement of lamps;
5. Restartability: Consider lamps that can be instantly reactivated and restarted to avoid latency time for lamps.
Warehouse Lighting Intensity Design
| Illuminance | Use of Space | Application |
| --- | --- | --- |
| 40 lux | Rarely visited spaces with visual tasks limited to movement and orientation | Warehouse - rarely visited storage of bulky materials, storage of one of a kind large size material, corridors, passageways and ramps |
| 80 lux | Intermittent use, visual tasks limited to movement, orientation and coarse detail | Warehouse - storage of bulky materials, storage of goods involving search and retrieval tasks such as loading bays or storage rooms. |
| 160 lux | Continuously occupied, coarse detailed work and occasional reading of clear print | Warehouse - rough stock check, storage of medium/fine material, reading of labels;  packing and dispatch of large objects. General work such as non detailed bench and machine work. Counting, cleaning, entrance halls, automated process monitoring, gas and arc welding; cafeteria's. |
| 240 lux | Continuously occupied, moderately easy tasks with high contrast or large detail | Packing and dispatch of medium sized goods.  General work such as transaction counters,  rough woodwork, food preparation, cooking, washing up, general sheet metal works. |
| 400 lux | Moderately difficult visual tasks with low contrast or moderate detail | Packing and dispatch of small goods. General work such as medium grade bench and machine work, inspection and sorting of goods, spot welding and standard woodworking. |