Energy-efficient LEDs are the latest in contemporary ceiling lights. The LED ceiling light fixtures that are maintenance-free, have a long lifespan, and utilizes innovative technology, allow designers to create minimalist and modern lighting at home.
Slim profiles and close-to-ceiling installations are ideal for lower ceilings, and the bright LED bulbs provide plenty of illumination. Thus, you can now install the LED ceiling lighting in your home, and needless to say, that it will be one of the best decisions you've ever made. So, now it all boils down to the question: how to choose the right LED ceiling lighting for your home. This article will give you the answer.
How Many Lumens do You Need for Ceiling Lights?
How to Choose the Light Color for Ceiling Lights?
Control Modes of LEDs Ceiling Light
Check the IP Rating of the Ceiling Light
How Many Lumens do You Need for Ceiling Lights?
Nowadays, LED lights employ less energy compared to their older incandescent cousins, and they are often labeled by their equivalent brightness to incandescent lighting. Since incandescent lights were the norm for so long, many people have an easier time relating to the incandescent light's brightness scale than LED lights. For example, an LED light might require 12 watts to operate, but it could be just as bright as a 75-watt incandescent light.
The brightness of the LED lamp, listed in lumens, is a measurement value indicating the amount of visible light produced. In short, more lumens equal a brighter light and fewer lamps to illuminate the room.
When comparing ceiling lights, consider which room you are looking to illuminate. The most basic calculation formula is that the living room or bedroom generally needs about 10-20 lumens per square foot, while the bathroom or kitchen needs a more substantial and powerful lighting level, about 40-60 lumens per square foot.
You can refer to the following rules for lumens required by room type:
Kitchen: 2200 – 5000 lumens
Bathroom: 1500 – 2500 lumens
Home office: 2200 -5000 lumens
Dining room: 1,500 – 2,500 lumens
Living room: 1,000 – 2,000 lumens
Bedroom: 1000 – 2000 lumens
How to Choose the Light Color for Ceiling Lights?
With the help of advanced LED lights, homeowners can now choose from a range of shades, expressing the warmth or coolness of the light on a Kelvin (K) scale.
2000K to 3000K: These LED lights emit a soft amber glow at the warmest end of the Kelvin spectrum, creating a warm and relaxed ambiance. This range produces a soft white light, which is suitable for family and living spaces. For example, Lepro 3000K Bright White Ceiling Light Fixture.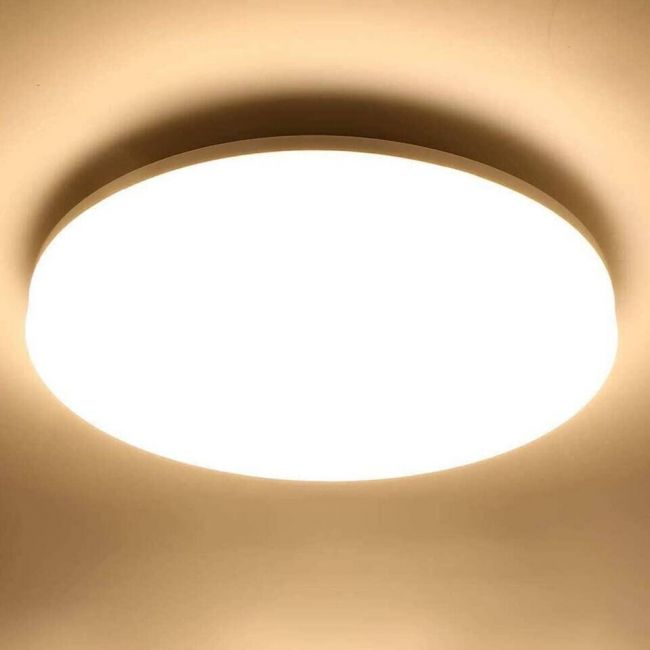 3000K to 3500K: The LED lights in this range are clear and provide a refreshing soft white light at the midpoint of the Kelvin scale.
3500K to 4000K: Lights in this range are considered "cool white" lights, suitable for some working spaces, such as kitchens and lounges.
4000K to 5000K: LED lights in this color range can also be called "daylight" colored lights that are considered vibrant and bright. You can choose ceiling lights of 5000K in your home office or bathroom.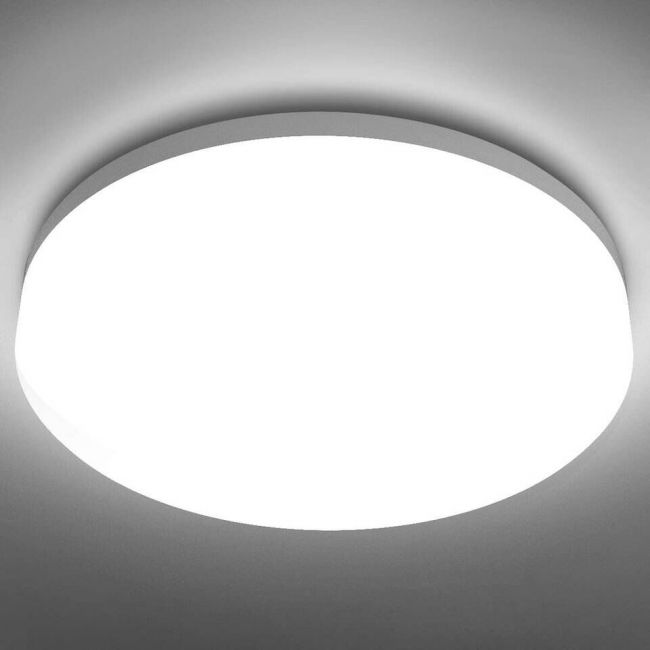 5000K to 6500K: Known as "daylight deluxe," the lights in this color range are very cool and bright and are usually used in industrial environments because their range is perceived as extremely bright. Lights in this range are not suitable for home settings.
Spectrum light: The new kid on the block, the color spectrum light provides a range of color options, including multiple shades of yellow, blue, green, and pink. They are often referred to as "color-changing lights," and shoppers can choose different colors to suit a particular mood.
Control Modes of LEDs Ceiling Light
Some, but not all, LEDs Ceiling Lights are compatible with dimmer switches, allowing you to dim the light in the room to conserve even more energy. Others operate them using a remote control, or they come coupled with Bluetooth or Wi-Fi connectivity, so you can turn them on and off or program them in advance from a smartphone or other digital devices.
Check the IP Rating of the Ceiling Light
Check your ceiling light fixture's waterproof rating if you plan on using them in a humid environment. For bathrooms, at least, IP 54 rating is needed. Top LED ceiling lights should be well designed, constructed using quality materials, reasonably priced, and built to last. You can click the link to find more information about LED Ceiling Lights.