If you own a bar, LED light strips are certainly an indispensable bar decoration. LED light strips are inexpensive and practical. A simple light strip can make an enormous difference to the entire bar; if you are decorating your home, LED light strip is also a superb choice. In modern interior decoration, bar design has become a fashionable trend; whether you want to sit in a bar to eat a light meal in the morning or enjoy a romantic drink with your partner in the evening, it is very popular feature among young people. With just one LED light strip, you can easily transform your bar into a beautiful scenery in your room.
There are so many types of LED strips, so how do you choose a strip that is suitable for your bar? It's actually very simple: all you need to do is work out what effect you want. Do you wish to create different lighting effects? Or would you prefer a light that follows the beat of music? How about a light strip that surrounds the entire bar? Don't worry. All these things are easily achievable!
Firstly, select the desired color
In terms of color, LED strips can be divided into color strips and single-color strips. RGB light strips are the most common among color light strips. You can place RGB light strips around your bar and produce different colors at different times to bring out the atmosphere.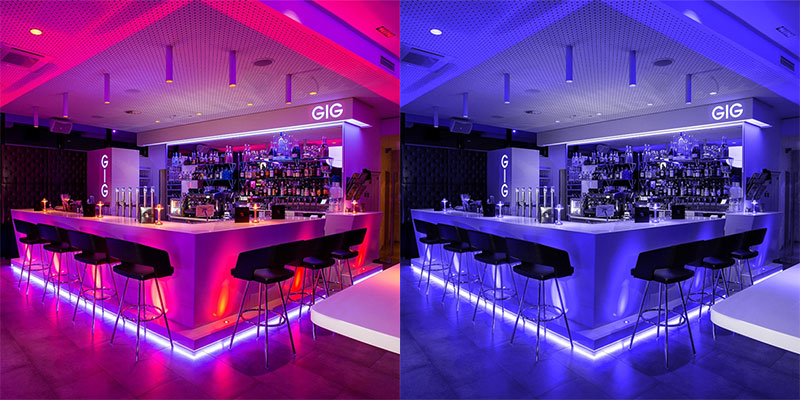 However, if you are aiming to accentuate the atmosphere of your bar, a dreamcolor light strip is definitely the liveliest. A dreamcolor light strip has an additional IC chip in its lamp beads and can display multiple colors on a single light strip. You can also switch to a running light mode to create lighting effects such as horse racing, running water and so on. A dreamcolor light strip can do what an ordinary RGB light strip cannot do and the effect is quite spectacular.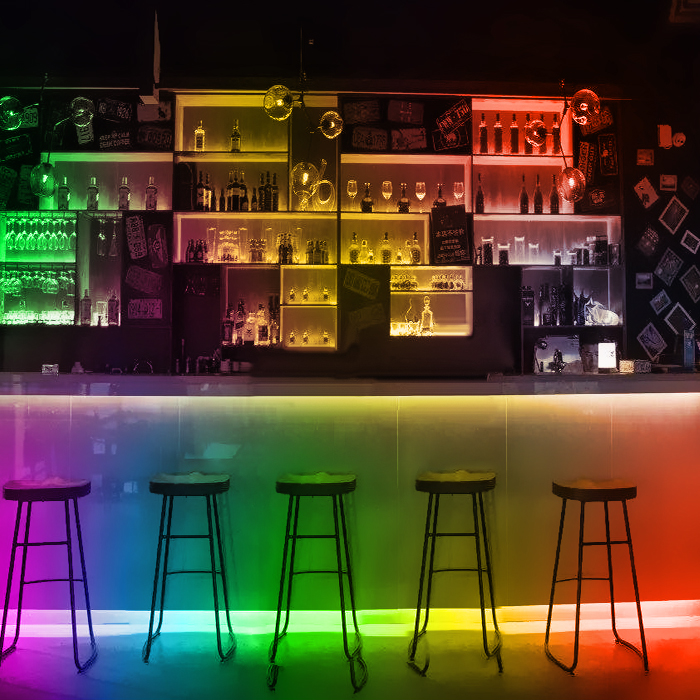 Single-color light strips generally include warm white, daylight white, neutral white and others. While they cannot produce other colors, if the light strips are adjustable, the brightness can be turned up or down to achieve different effects. In terms of interior decoration, you can decide on a color based on the overall design style of your interior environment. A warm white light strip creates a warm atmosphere, while a daylight white light strip has a more modern feel.
Secondly, select the music mode
Apart from wine and lighting, music is definitely the most essential feature in a bar. A musical LED light strip can synchronize with the frequency of music and flash along with the beat of music. If a dynamic dance song is playing in the bar, the light frequency will jump quickly; if you change the music to a soothing slow song, the light frequency will slow down accordingly. This musical light strip comes with a built-in microphone, which automatically detects the rhythm of the music. As long as the music mode is turned on, no operation is required once the color light setting has been adjusted, which is very convenient.
Thirdly, select the right length
In general, each bar table differs in length. Whether it is a club bar or a kitchen bar, you should select the appropriate length. When choosing the right LED strip for your bar, you should first measure the length carefully to avoid wastage. Of course, if you purchase a light strip that is slightly longer, you can cut the extra part along the cut mark and this will not affect its use.
Recommended the Best LED Strip Lights for Under a Bar
If you choose magiccolor LED strip lights, you will be able to set multiple colors among a variety of dynamic modes at one time to create a beautiful rainbow chase effect.
This RGB music light strip not only helps you bring out different color lighting effects, but also allows you to switch to a music mode and follow the music rhythm. In addition, this smart light strip supports multiple control methods, including APP, voice control, remote control and so on, which makes it very convenient. Because light strips have different lengths, you should measure the length of your bar and choose a suitably long light strip when you make your purchase.
If you don't want the lights to glare and flicker too much and you only want static lighting effects to create an atmosphere, you can choose this RGB 12V LED strip light for bars. There are 20 colors set by default. You only need to adjust a combination of RGB (Red, Green, Blue) to achieve any color you want. Similarly, this RGB light strip is also available in different lengths. Please purchase one that matches the length of your bar.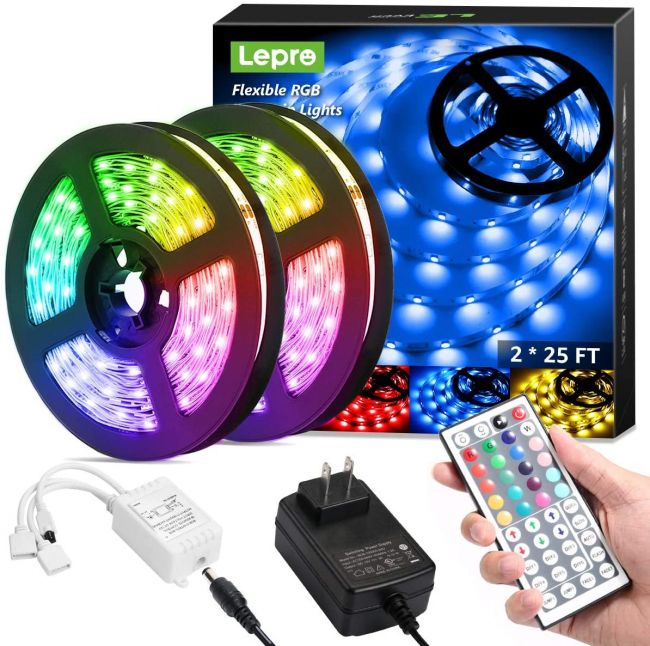 If you want to get an under bar led strip lighting at home, you can try this warm white light. It can make the interior environment look more cozy and comfortable. You can also display different lighting effects and create different feelings by adjusting the brightness of the lights at different times. This light strip is very easy to install: just peel off the 3M strong glue cover behind the light strip and stick the light strip tightly around the bar. It will light up as soon as power supply is connected.
Are these three recommended LED bar lighting strips? Check LED Strip Lights to find out more about LED light strips. Come and take a look!