Have you always wanted a makeup mirror with lights but expensive prices have you off getting it? Do you know where you should start if you want to decorate a full-length mirror? Don't worry. Today we will take a look at how to DIY together and transform ordinary mirrors easily and economically into super bright LED makeup mirrors. You can turn your full-length mirror into a mood setter for the entire room.
Part 1. How to DIY LED Light Strip for Vanity Mirror
Part 2. Introduce the Best LED Light Strips for Mirrors
Part 1. How to DIY LED Light Strip for Vanity Mirror
Step 1. Choose the right LED light strip
That's right – the only difference between an ordinary mirror and your favorite makeup mirror is an LED light strip. The cost of LED strips is quite low, and a strip that costs a few dozen US dollars should be enough to meet all your needs. But how do you choose the right light strip?
First of all, you need to consider whether it is installed in a bedroom or in a humid room such as a bathroom. If you are installing it in a bathroom, you should take care to select a waterproof LED light strip. But if you are placing it on a bedroom makeup mirror, you won't need to consider this point, so you can save some money in your budget.
Also, you should consider the function of the light strip. If you want to create a different atmosphere, you can choose RGB color light strips and pick the right colors to match your mood; if you don't need too many colors, you can choose either bright white or warm white. They may look simple, but your selection can highlight the entire makeup mirror. If necessary, you can choose a LED light strip with dimming function, so that you can adjust the brightness according to your mood. You can have a pleasant experience when you apply makeup in front of the mirror.
In addition, the length of light strips is variable, and longer ones tend to cost more. Of course, if a light strip is too long, you can always cut it short, or you can try to wrap it around the mirror twice. In order to avoid wastage, we recommend that you measure the size of the mirror and choose the appropriate length before you purchase a strip light.
Step 2. Choose a location to install the LED light strip
You can choose to install the LED light strip in front of your mirror or behind your mirror as a background light. Of course, you can also follow the specific shape of the mirror and show different moods in different positions. Once you have chosen where to place the LED light strip, you can get ready to install it.
Step 3. Install LED strip lights around the mirror
After getting the light strip, you should clean the surface around the mirror, and apply the light strip. Generally speaking, placing the LED light strip around the mirror looks more attractive. Many LED light strips also have 3M strong glue at the back so that you can directly attach them to the mirror. When you are doing the sticking, you must ensure that there is no water on your mirror; otherwise even the 3M Super glue cannot stabilize the light strip. Next, you should take out the corresponding LED light strip connector and connect the light strip and the controller. After that, you can insert the power supply and light up the LED strip.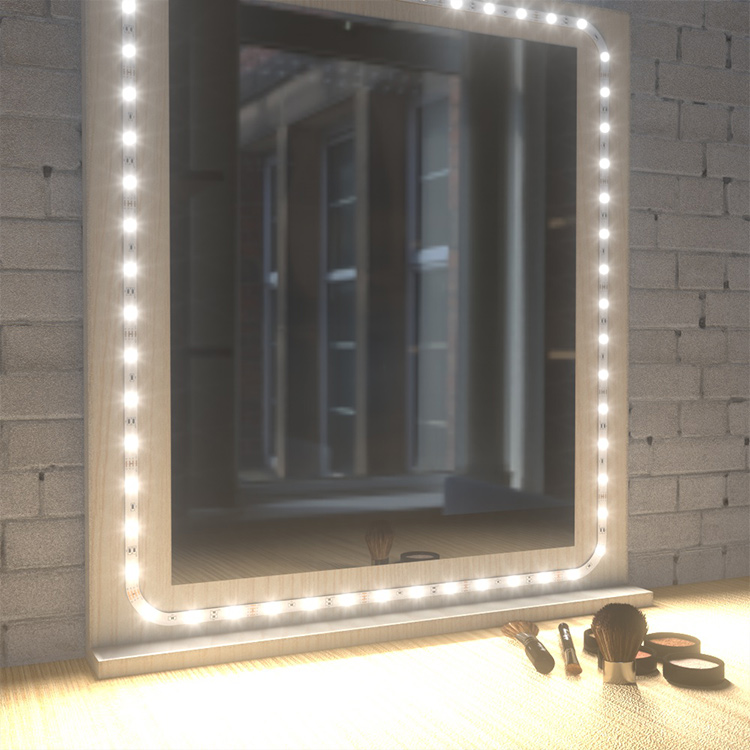 If you have any questions about how to install led strip lights on mirror, you can also watch the video below to find out more.
Part 2. Introduce the Best LED Light Strips for Mirrors
As a brand that has been thriving in the LED lighting industry for more than ten years, Lepro provides consumers with a variety of LED lights to meet their different needs. If you are looking for an LED light strip suitable for a makeup mirror or a full-length mirror, we recommend this Daylight White LED Strip Light, which is very popular because of its high quality and low price. The brightness of this LED light strip is quite good, and its dimming function enables you to adjust the brightness at different times, which is very practical. Furthermore, you can decide whether you need a waterproof function depending on the location and position you would like to install the light strip.
If you want a color light strip to create a different atmosphere, we recommend that you choose this RGB LED Strip Light. It is very easy to install, and you can easily bring up any color you want by using the remote control.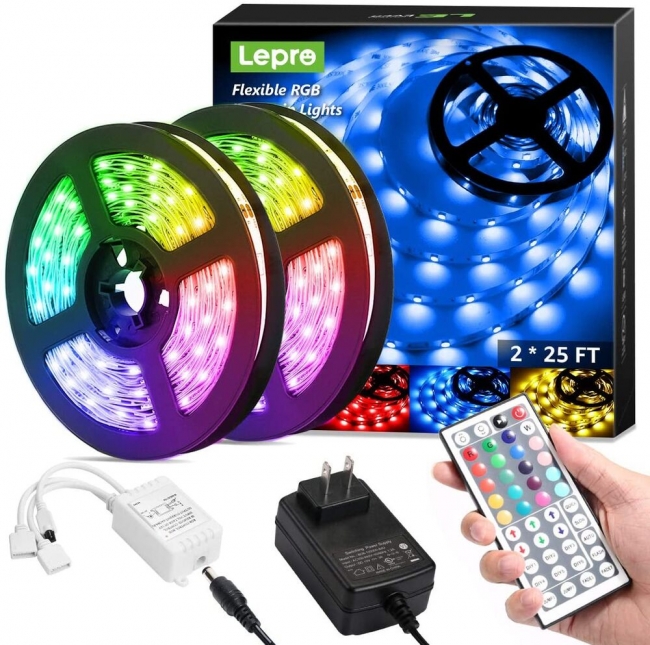 In addition to the 2 models recommended above, we have many other light strips with different functions under the LED strip lights category. Come and take a look which one you would like to use to decorate your makeup mirror!