In modern interior decoration, many choose an open kitchen. Rather than a small, separate area, it can be integrated with the living room. Therefore, more people are paying attention to kitchen design, trying out different ways to decorate it. Want to make your kitchen warmer, more vibrant, or unique? It's easy. You only need LED strip lights placed near your cabinets to transform your kitchen.
Part 1. 3 Ideas to Install LED Strip Lights for Kitchen
Part 2. How to Choose LED Strip Lighting Kit for Kitchen Cabinets
Part 3. How to Install LED Strip Lights for Kitchen Cabinets
Part 4. Why Choose LED Strip Lights for Your Cabinet
Part 1. 3 Ideas to Install LED Strip Lights for Kitchen Cabinets
I. Under the Cabinets
If your kitchen has a row of wall cabinets, stick the LED lights along their bottom, or along the kitchen console table. Then adjust the color to whatever you like depending on kitchen decoration style and your preferences, and make the kitchen exude a different aura.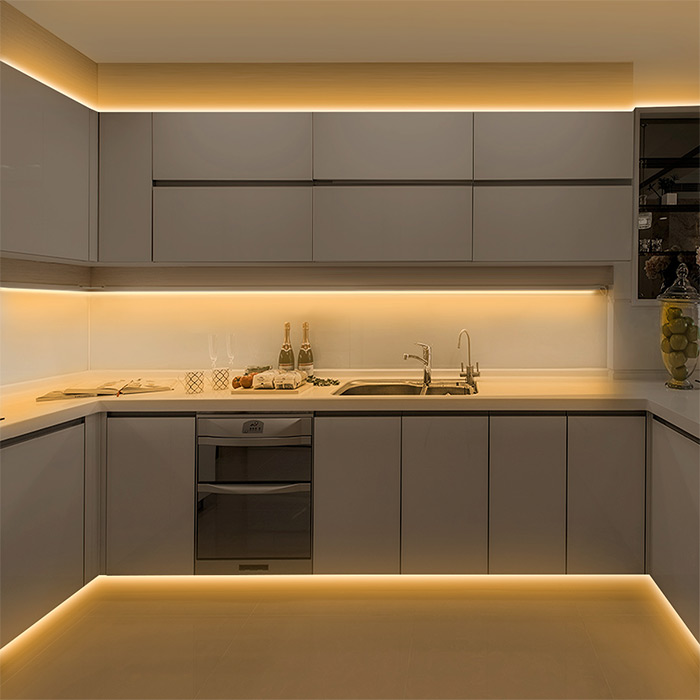 II. Above the Cabinets
If your cabinets are connected with the ceiling, install an LED strip at the joint. Through the adjustment of the color of the lights, you'll find the kitchen atmosphere radically different. If it's permissible, try matching it with lighting effects in the living room to harmonize the whole interior.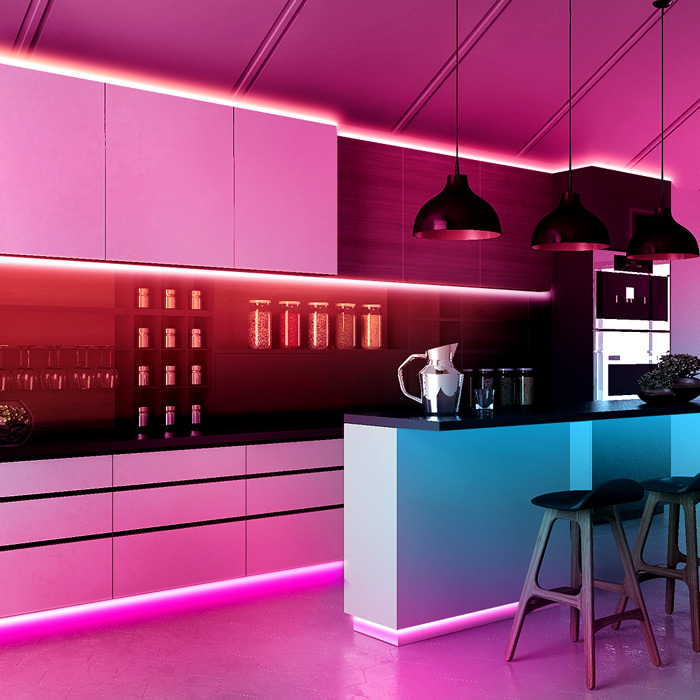 III. Floor Cabinet Lights
Besides the wall cabinets, you can also install LED lights at floor cabinets, echoing the lights at the wall compartments. After installing all the strips, set your favorite color, or set different lighting effects at different locations. You'll get a brand new, cozy kitchen. Whether warm, bright, or romantic, you can change it however you like, which is very convenient.
Part 2. How to Choose LED Strip Lighting Kit for Kitchen Cabinets
First, waterproof: Lights in the kitchen need to be waterproof. It's best to buy waterproof LED strip lights to prevent strip damage due to water.
Second, adjustable: People usually need different types of lights depending on the weather, time, or even mood. Adjustable LED strip lights can satisfy different situations. If the weather is bad and bleak, adjust the cabinet lights brighter. To build a warm kitchen atmosphere, you don't need very bright lights, so you can set it darker to appear more comfortable.
Third, color: It's known to all that different colors evoke different atmospheres that influence mood. With no exaggeration, kitchen lights arguably influence appetite. Colors of the strip lights can be divided into sunlight white, warm light white, natural white, RGB, and dreamcolor, which combines different colors of lights. You can choose red, orange, or other colors of lights however you like to make the kitchen warmer and more natural.
Part 3. How to Install LED Strip Lights for Kitchen Cabinets
After selecting the appropriate LED strip lights, you have to install them near your cabinets. Here, I use Lepro LED strip lights as an example to teach you about installing LED strip lights under kitchen cabinets.
Step 1: Measure the length and size of the strip lights your kitchen needs and buy accordingly
There are many types of Lepro LED strip lights, and your kitchen may need different types from other places. First, you need to select the appropriate LED lights. You should measure the size of your kitchen and choose waterproof strips (such as with an IP rating of 65). In addition, you can choose strip color and other features based on your needs.
Step 2: Clean cabinet surface
To stick the LED strip lights onto the cabinets, ensure that the cabinet surface is clean and dry before installation.
Step 3: Unwrap the package of the LED strip lights and stick the strip onto the cabinet
Open the package of the LED strip lights. If the strip is too long, first cut the excess along the crop mark on it, then tear off the tape and stick it onto the cabinet.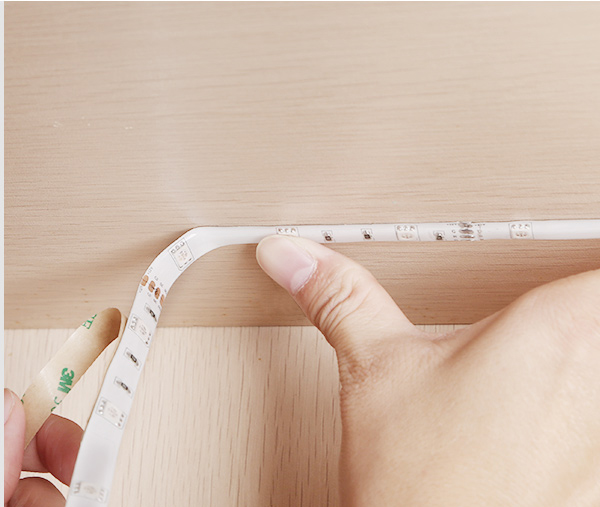 Step 4: Plug it in to launch the lights
The Lepro LED lights set includes a controller and an adaptor. Connect them to the strip and plug it in to use. Note: don't connect it to power supply in the opposite direction, or it won't work.
Part 4. Why Choose LED Strip Lights for Your Cabinet
From the above, we can see that kitchens do needs different lights to achieve specific atmospheric design. Why choose LED strip lights, then? Mainly because they have some advantages over other types of lamps.
First, they are efficient and energy-saving. Going green has always been a main theme of modern life, and the lighting industry has made huge progress in energy efficiency, resulting in LED strip lights.
Second, they emit so little heat, you won't feel the temperature from the lights much when cooking in the kitchen.
Third, they have a long service life, multiple times more durable than traditional lamps, enable you not to replace it frequently.
Fourth, they are easily installed. Many lights have 3M super glue, so that you only need to stick it lightly on the cabinet. No difficulty at all.
Fifth, LED strip lights can be adjusted, while many other lamps can't. Besides lighting adjustment, you can also change the color based on weather or personal preferences, satisfying your DIY needs.
Today we introduced LED strip lights suitable for cabinet decoration. If you want to improve lighting for your kitchen's visibility issues, check out Lepro Under Cabinet Lighting for more details.