As a form of ambient lighting, LED strip lights are gaining increasing popularity in interior decoration. One creative way to use them is as TV background lighting, which can help set off a home theater environment and provide a completely immersive experience for you. Besides, if you are used to watching TV at night with lights off, you must have known that staring at a bright TV screen in the dark makes your eyes fatigue more easily. By installing LED strip lights behind TV to increase the general brightness in your room, you can reduce eye strain caused by the sharp contrast between a bright TV screen and a dark room. So wouldn't it be fun and useful to apply LED strip lighting for TV? Next, we will be talking more about how to connect LED strip lights for TV.
Part 1. How to Install LED Strip Lights Around TV
Part 2. How to Choose the Best TV LED Strip Lights
Part 1. How to Install LED Strip Lights Around TV?
LED strip lights are generally speaking very easy to connect. For example, it only takes a few simple steps to install Lepro RGB TV LED strip lights on the back of a TV.
Step 1: Unroll the strip lights
After the LED strip lights are delivered to you, the first thing to do is to unroll them. If you have purchased a kit, you will also get additional accessories like remote control, power supply, and 3M adhesive tapes.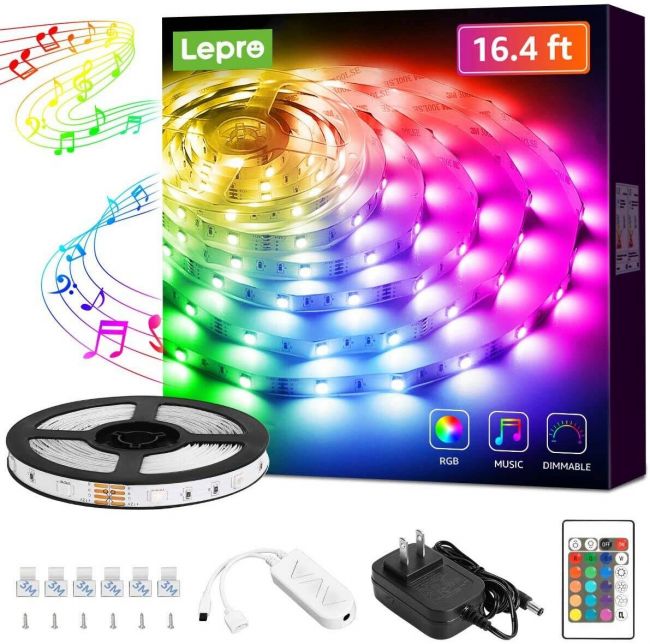 Step 2: Clean the back of your TV
Since the LED strip lights are attached to the back of your TV with 3M self-adhesive backing tape, you will need to clean the TV before applying. If the surface is too dusty or damp, the strip lights are more likely to fall off after you stick them on.
Step 3: Confirm the location and stick on the strip lights
Since different households have TV sets of different sizes, it would be best to measure your TV before sticking on the strip lights. Try to position them first. After making sure you are happy with the positioning, remove the backing sheet from the 3M double-sided tape and stick the LED strip lights for TV.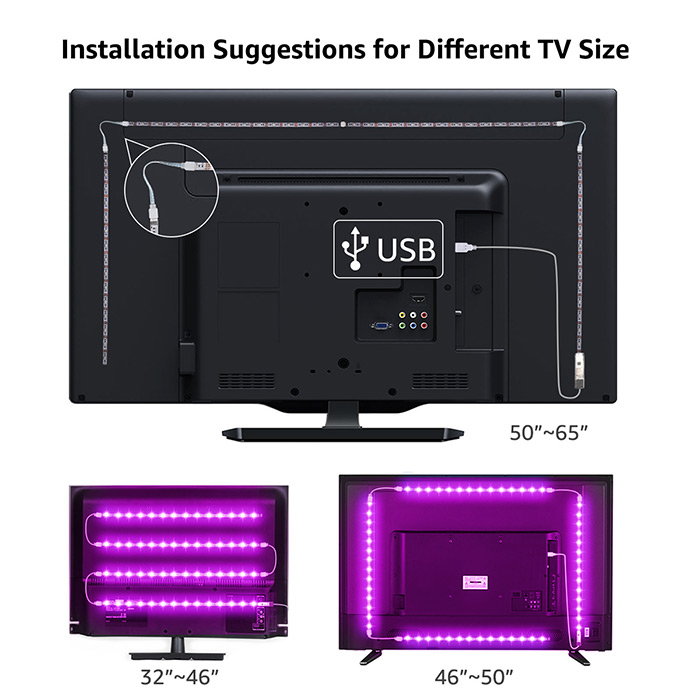 Step 4: Connect the strip lights
Lepro USB TV LED strip lights consist of 4 individual strip lights with a mini controller. Connect the 4 individual strips with 3 connector cables. Next, connect one end of the USB cable to the mini controller and the other end to the port on your TV. Now that you have finished connecting everything with ease, you can adjust the color and brightness of the lights with the remote control to create different visual effects.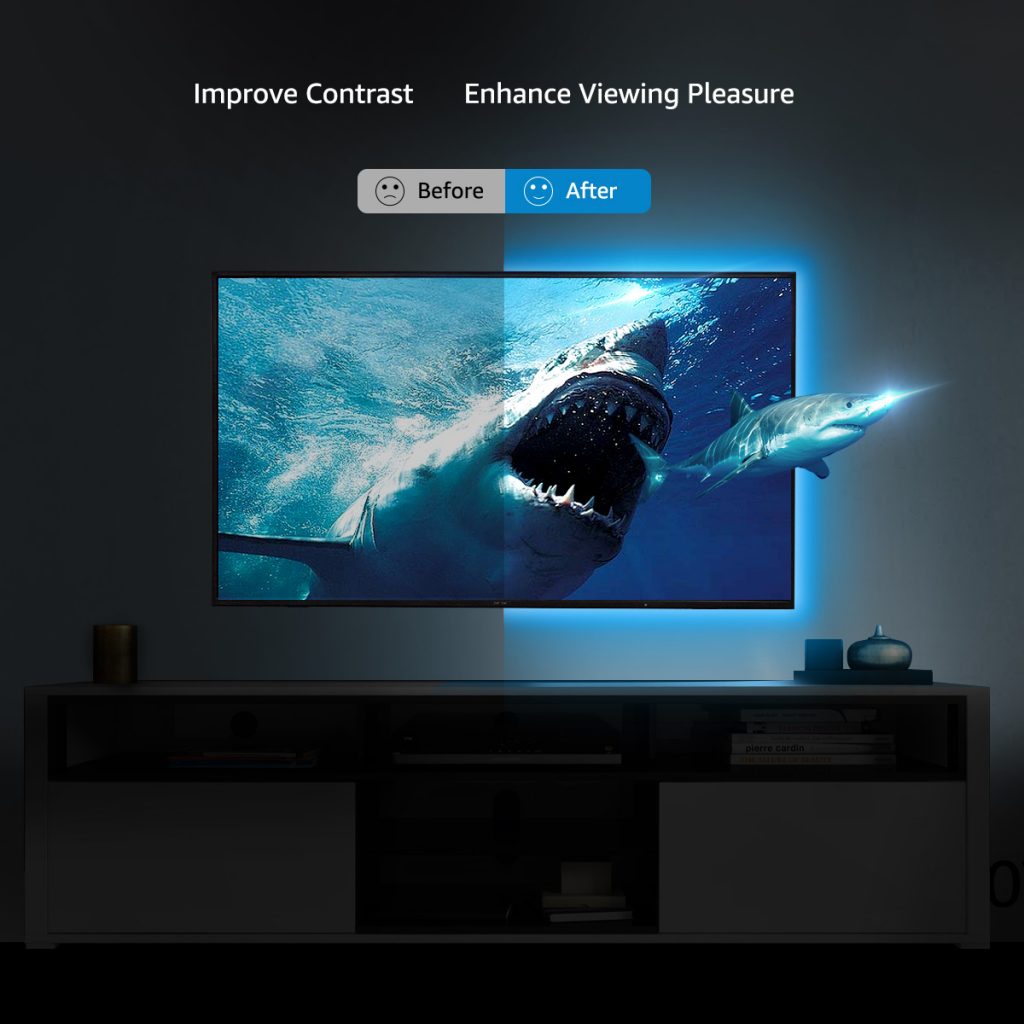 Part 2. How to Choose the Best TV LED Strip Lights
Among all the LED strip lights available on the market, how to find the perfect one for your TV set? The following aspects will help you make the decision.
#1. Multiple Colors Available
If you want to feel like you were watching TV in a movie theater, RGB LED strip lights will probably suit you well. You can set different colors of light for different movie genres. Whether you are watching a romantic movie, a hilarious comedy, or a nail-biting thriller, you can set off a better environment with LED lighting and enjoy a more intact experience.
#2. Adjustable Brightness
This is also a very important feature because adjustable brightness makes it possible to create completely different lighting effects, allowing you to adjust at will.
#3. Proper Length
Before shopping for LED strip lights, it would be best to measure the size of your TV set in advance, so you will be able to determine the right length. If you want strip lights for your 65-inch TV set, the Lepro 6.5ft USB TV LED strip lights mentioned above will be a perfect choice. Besides, this product consists of four individual strip lights of equal length, so you can adjust the positioning of each strip to suit TV sets of different sizes. If you purchase a continuous strip, you can apply it along the edge of your TV and cut off the excessive part (if any) at a "cut" mark.
#4. WIFI Connection Enabled
Smart LED strip lights can be connected to WIFI networks. You can adjust the lighting effect with remote control, a mobile APP, or voice control, while non-smart strip lights are generally adjusted with remote control only. You can decide whether to purchase a smart model based on your own needs. If you have a smart speaker at home or find it easier to operate on a mobile APP, you can go for the more convenient smart models. If you think a remote control is enough for your needs, you can pick the normal strips at lower prices.
#5. USB Connection
Generally, LED strip lights with a USB plug works better with TV sets, as you can plug it directly into the port behind the TV sets without the help of an additional power socket. In addition, you can use a power bank, a computer, a wall-mounted charger, etc. to power the LED strip lights conveniently and safely.
If you want LED strip lights for your LG or Vizio TV background lighting, Lepro 16.4ft USB TV LED strip lights are the perfect choice for you. This model can not only create different effects with multiple available colors of light and an adjustable brightness but also fit for both 35-inch and 65-inch TV sets. Come pick the perfect background lighting for your TV now and enjoy a completely immersive movie-watching experience!