With more and more people opting to work from home – either from starting their own business or teleworking – it's necessary to find the proper lighting for the workspace to boost productivity. A room with poor lighting can make a person less energetic, diminish good feelings, lead to headaches and eyestrain, etc. In the end, it can affect the effectiveness of their work.
How Bright Should a Home Office be?
You may be wondering how bright your home office or study needs to be for it to be effective. According to the European standard DIN EN 12464-1, the parameters should be:
Aisles/corridors – 100 lux
Background – 100 lux
Direct surroundings – 300 lux
Work area – 500 lux
What are the Best Home Office Lighting Products On the Market?
When it comes to outfitting a room, most people overlook the necessity of lighting. They think first of laptops, furniture, microphones, etc. Lighting is almost always the last thing to cross their mind when it should be one of the first. You want the background to accentuate you if you're holding a conference call. With the right light, you can sit down at the computer for long periods of time and get work done.
How can you know which home office light products are the best for your workspace with so many products to choose from? The first thing to determine is what you want from your lighting, then choose the product that meets that goal.
Overall Brightness
Lepro LED 4-Foot Linkable Hanging LED Shop Lights
When it comes to general lighting that is easy on your eyes and keeps you from getting tired, a ceiling light fixture is a right answer. If your home office is relatively large, the Lepro 4ft 42W LED shop light will generate 4,200 lumens. This equates to a 100W fluorescent tube and can save up to 60% on your electric bill.
For additional brightness, you can connect several Lepro LED units together to create one unit.
Lepro 13-Inch 24W Flush Mount Ceiling Light Fixture
Lepro's 24W LED ceiling light is similar to a traditional 200-watt ceiling fixture. The manufacturer added a milky diffuser with the LED lights to provide non-flickering bright light that is easy on the eyes and won't cause a glare. If you work overnight, this is the best kind of light to work in.
Task Lighting
Lepro LED Desk Lamp with USB Charging Port
A desk needs the right light to illuminate its space. When in the market for a desk lamp, be sure to find one that offers some flexibility, such as the Lepro LED desk lamp. The manufacturer has designed it, so this lamp has five brightness levels and three color modes. You can also adjust the lighting shade and brightness to meet your needs.
With most lamps, you flip a switch, pull a cord, or turn a knob, not so with this desk lamp. Instead, you tap its base to turn it on or make adjustments to the color and brightness settings. The light is evenly distributed to alleviate possible eye strain and dark spots. You can also charge your electric devices (tablets, smartphones, etc.) into the lamp.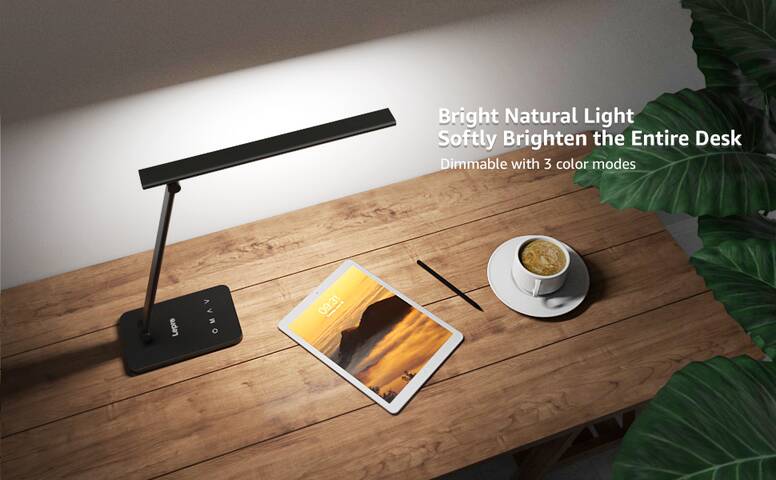 Nanoleaf Canvas
The Nanoleaf Canvas light is a wall-based solution to a room's lighting needs. This modern lighting comes with panels that can be controlled through an app, allowing you to adjust its warmth levels and colors. It's also been installed with themes – seasonal colors, sunset, concentration, etc., and the ability to choose the speed of these transitions.
Set up the square panels to become an office backdrop or install them behind your monitor to create custom lighting while gaming or watching movies.
Accent Lighting
Lume Cube Edge
Many people who work from home may have Zoom meetings they have to participate in. The wrong light can give off a bad impression. However, the Lume Cube Edge light will bring a better highlight to your appearance during these calls or live broadcasts.
This is a worthwhile option because it comes with five rotating pivot points and an adjustable clamp, allowing you to fix it the way you need it. You can also charge two devices using its available ports.