Outdoor lighting is an integral part of a home. It helps improve the curb appeal and makes it safer to walk at night, from the street to your home. For the backyard, outdoor lighting helps improve safety and creates a great time out on the patio or deck. However, to get any of these advantages, you must first know what options are available for your outdoor LED wall pack lights, and where the lights should be installed, at what height, etc.
How to Get the Right Size Light and Position For Your Entryway and Front Door
It's essential that your front door and entryway get the right amount of light, helping to improve its curb appeal and increase safety. How can you ensure that you get the correct sized lighting?
Measure top to bottom of your front door, making a note of it.
Divide the front door's height by 1/4 and 1/3.
Get a light fixture that measures 1/4 and 1/3 of the front door's height, ensuring it doesn't look too small or big for the home.
In the majority of homes, the best height level is eye level. For outdoor and front doors, you want wall pack lights and outdoor scones to measure 66 to 72 inches of the ground. You can go above 72 inches with tall spaces but not by much.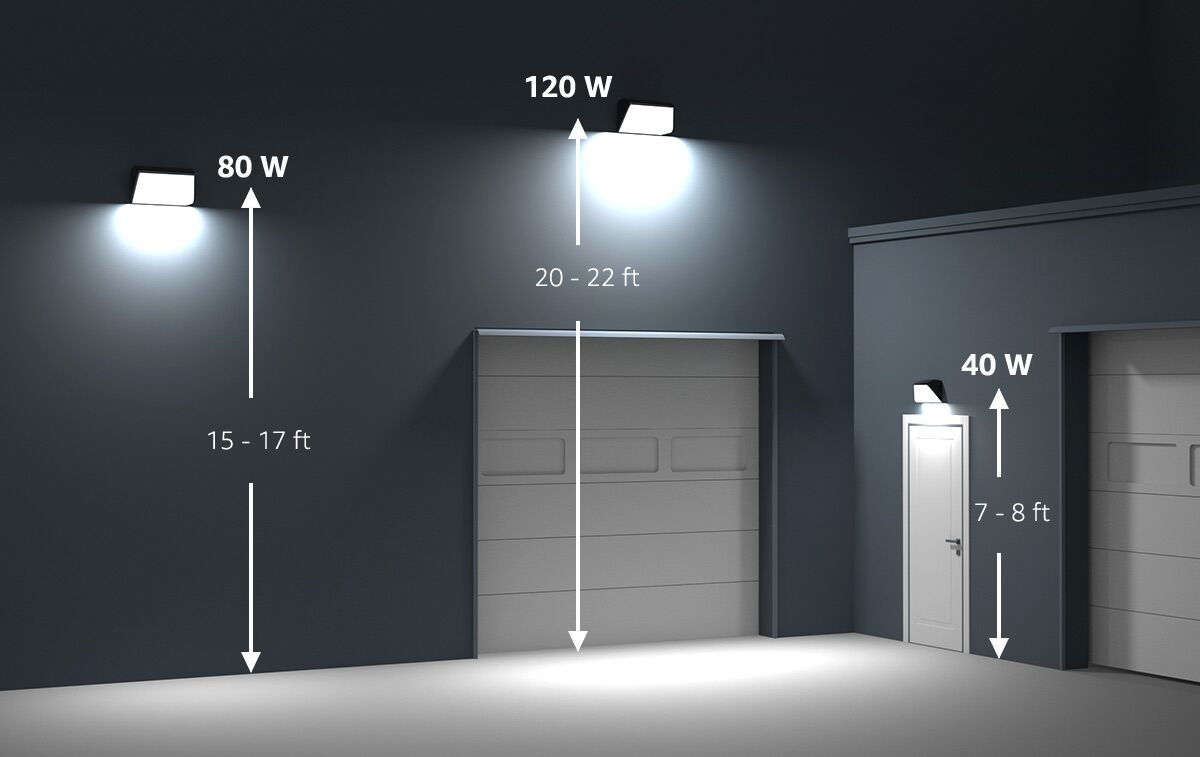 Get Right Wall Pack Lights for Your Garage Outdoor Lighting
Garage lights are very convenient when you need to move around in the dark, and they can increase the safety of your surroundings. Garages are usually located adjacent to the front door, and your preferred garage lighting will give the area ambient light.
Like the front door measurements, your garage lighting should stick to the 1/4 to 1/3 rule. Be sure to measure the height of the garage door to ensure you buy the right size. It's a little trickier to light up this area, but what you get depends on the garage size and where it's located. What can you do to ensure you get the right lighting?
Get a single-side lantern – Go with this choice if you have a one-car garage and install it nearest to your walkway.
Get two single lamps to install on your garage – one on each side. This option is best for a two-car garage or when the garage is a huge one-car garage.
If you want your entire garage lit up, you'll need three lamps. Put one on the right, left and center of the garage, making sure they are evenly spaced.
No matter what size your garage is, you can install the garage light above the door area. Be sure the lights don't impede your ability to move around.
Tip: Choose an LED wall pack light with a photocell around your garage for safety and convenience. They will automatically detect variations in light intensity and switches ON at night and OFF during the daytime to save energy
Get the Right Wall Pack Lights for Your Outdoor Patio Lighting
Your outdoor area is a place where you can relax with friends and family, so you want to make it as inviting and safe as possible for them.
As with the other lighting, the 1/4 to 1/3 rule applies for the outdoor lighting too. Be sure to get the measurement closest to the door going into the home or garage. Since it's important to get the right lights for your outdoor area, here are a few things to keep in mind
Use more than one light to brighten the area up. Up to four light fixtures are put at the same light height to brighten the entire area.
Have one light near the door to the outdoor area.
Have several lights for your oversized spaces, putting one light near the doorway and another near the patio or deck.
Use a mix of lighting styles to brighten the pool area, using one wall light close to the door.
By remembering the 1/4 to 1/3 rule, you can choose the right wall pack light fixtures for your outdoor spaces. With this rule, you can make sure the lighting is the right size for your home. And getting the correct size is essential to ensure your home looks beautiful, inviting and