In industrial lighting, such as in factories, warehouses, workshops and other places, your choice of lighting entails several key considerations:
1. Illumination. Industrial sites commonly have high ceilings. As the height increases, the degree of illuminance gradually weakens. In order to meet the needs of industrial lighting, lights with stronger illuminance such as LED high bay lights should be selected. Even if suspended above 20 feet, they can ensure adequate lighting.
2. Durability. Industrial sites tend to have relatively harsh production environments, such as in flammable or humid locations. Production safety must be guaranteed. Therefore, more durable lamps must be used. Compared with traditional fluorescent lights or metal halide lights, LED lights can last longer and are safer.
3. Cost. In setting such as factories, most lights are purchased in batches. As such, cost is a very important consideration, not only in terms of purchase cost, but also in terms of installation cost, replacement cost, and energy cost.
LED high bay lights are one of the most popular lighting options for industrial lighting. They are highly suitable for illuminating sites such as factories, warehouses and workshops. Next, we are going to introduce some industrial LED high bay lighting fixtures for your reference.
Top 5 Industrial High Bay LED Lighting Fixtures
Lepro offers several types of UFO LED high bay lights with different powers, which are suitable for hanging from ceilings of different heights. The appropriate model can be selected according to specific needs.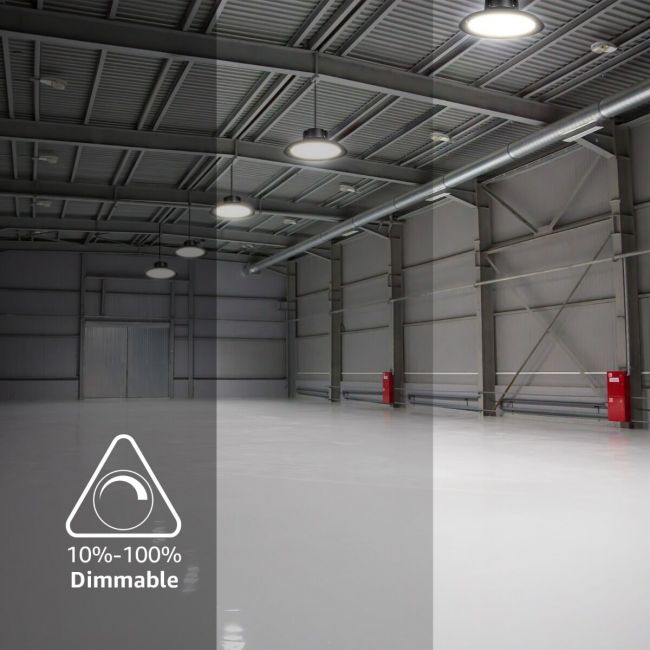 Energy saving: using Lepro LED high bay light can save more than 60% of your energy bills. A 100W LED high bay light is equivalent to a 300W metal halide light, a 150W UFO LED high bay light is equivalent to a 400W metal halide light, and a 240W LED UFO high bay light is equivalent to a 600W metal halide light. At the same time, you can use it with a 1-10V dimmer to adjust the brightness of the light as needed.
Durable: The dust-proof and waterproof grade is IP65, so it can be used in dusty or humid factories. The products have passed UL certification, and the quality is guaranteed. The service life is 50,000 hours. There is also a 5-year warranty.
Easy to install: The industrial high bay lighting fixtures are equipped with lifting rings, which can be directly hung with hooks, and are very easy to install.
2. VCMAG Industrial UFO LED High Bay Lighting
High luminous efficiency: a 150W VCMAG UFO LED High Bay Light is equivalent to 600W HID/HPS. The output brightness is 21000LM, equivalent to 140LM/W, which can save 80% of your energy bills.
Large beam angle: VCMAG industrial bay lights adopt a 120 degree large beam angle design, which can cover a larger area. 5000K daylight white has natural light, has no flicker, protects eyes from harm, and ensures production efficiency.
Long service life: The built-in hollow-designed heat sink die-cast aluminum shell and transparent cover ensure that this industrial high bay LED lights has good heat dissipation. In addition, it has a long service life of over 50,000 hours.
3. Adiding Industrial High Bay LED Light Fixtures
High luminosity: 200W Adiding High Bay LED Light built-in 448pcs SMD LED chip, output 30,000LM, luminous efficiency up to 150LM/W, equivalent to 900W HPS/HID.
Multiple installation methods: The Adiding industrial LED High Bay kit comes with multiple accessories, including hooks, safety ropes and freely rota table brackets, to help you install them in an easier way.
Good heat dissipation: It uses an impact-resistant die-cast aluminum shell, hollow design and ultra-thin light-emitting surface, and provides faster and better heat dissipation. It can protect the light to ensure a longer service life.
4. Vemofoper Industrial LED High Bay Light Fixture
Efficient light emission: 100W Vemofoper LED High Bay Light can output 14000LM, the luminous efficiency is 140LM/W, the beam angle is 120°, 5000K daylight white. It can replace 400W HPS/HID.
Quick installation: Vemofoper high bay industrial LED lighting is equipped with a UL-certified 5-foot power cord and 110V standard American plug (if you don't need the plug, you can ask a professional to cut it). Fast installation, saves time and energy.
Good durability: It is made of pure aluminum, providing the light with better heat dissipation. It can ensure a service life of more than 50,000 hours, and avoid the cost of repeated replacement.
5. TREONYIA Industrial UFO LED High Bay Light
Energy-saving and power-saving: TREONYIA provides industrial high bay lighting fixtures with different powers, suitable for different installation heights, and suitable for different industrial lighting scenes. 100W output 14,000LM, equivalent to 140LM/W, high luminous efficiency, saves energy bills.
Easy to install: TREONYIA UFO LED High Bay Light is equipped with a 5'cable with pre-installed rings, four-strand safety rope and UL-certified US standard plug. Just hang it where you need it, plug in and go!
5-year warranty period: There is a 5-year warranty period. It has passed ETL, DLC, CE, FCC and ROHS certification, and is safe and reliable to use.
In the above, we have introduced 5 industrial high bay LED lights. If you need to install lighting fixtures in factories, workshops, warehouses and other places, you can compare and choose the right one. Lepro LED high bay lights are recommended here, click to see more product details.